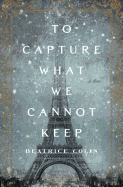 Since its construction for the 1889 world's fair, la tour Eiffel has become the universal symbol of Paris: slender, elegant, iconic--both a feat of engineering and a distinctive silhouette rising 324 meters above the Seine. It is difficult for visitors--or anyone who has ever seen a photo of the city--to imagine the Parisian skyline without it. But the tower, originally intended to stand for only 20 years, sparked criticism and controversy among the artistic and engineering elite of Paris. In her second novel to be published in the U.S., To Capture What We Cannot Keep, Beatrice Colin weaves together the story of the tower's daring construction with the personal life of Eiffel's right-hand man, Émile Nouguier, and the Scotswoman with whom he falls in love.
Widowed, penniless and growing rather desperate, Caitriona "Cait" Wallace gratefully accepts a position as a paid companion to two young people, Alice Arrol and her brother, Jamie, who are heading to Paris on their Grand Tour in 1887. Eager and bright but rather provincial, Alice hopes to find a husband among the dashing French messieurs, while Jamie is more interested in the delights of the city's gambling houses and brothels. On a cold February day, Cait meets Émile Nouguier on a hot-air balloon ride while steeling herself against her fear of heights, and her destiny, along with that of her young charges, becomes increasingly entangled with his.
Colin (The Glimmer Palace) builds her Paris with clear, lyrical descriptions: the trees in the Bois de Boulogne are "a haze of new green" in springtime, the tower is "a black iron scribble against the pale stone and dull golden glint of Les Invalides." The city has gradually adjusted to Baron Haussmann's wide boulevards and planned buildings, but refuses to be entirely tamed: there is always a hint of smoke and disorder hanging around the edges. Colin's characters attend the occasional artistic salon and spend Sunday afternoons strolling the Louvre, but they also visit down-at-heel neighborhoods and houses of ill repute.
Like her version of Paris, Colin's characters refuse to fit into neat and tidy categories. Alice is at once cunning and maddeningly naïve; Cait has strong opinions, but lets herself be trapped by social convention. The Arrols linger on the fringes of Parisian society without quite knowing how to gain entrée, and Cait can see their plight but is powerless to change it. Drawn to Émile, Cait arranges to see him in secret several times, but then urges him to court Alice, whose beauty and wealth would make her a more acceptable match. Meanwhile, Émile's attention is divided between his work on the tower and his complicated relationships--with his aging mother, with Cait, and with his devious (married) mistress, Gabrielle. All of them act in opposition to their own self-interest at times; the exception is Gustave Eiffel, who may be reckless and impulsive, but who always knows what he wants and how he plans to acquire it.
Despite the novel's backdrop of artistic and technological change, its characters are often constrained by traditional social mores: Alice is obsessed with finding a husband, while Jamie falls in love with a young prostitute but knows he cannot marry her. Cait is burdened by the dark secrets of her marriage, though she was not responsible for her husband's death, and spends much of the book dreading a lonely, colorless existence as a lifelong widow. Because of his passion for his engineering work, Émile draws more satisfaction from his life, but he is still bound by his mother's expectations (for him to marry and take over the family factory) and his attachment to the ruthless Gabrielle. Though each character wants something, it is often unclear what exactly that is--with Eiffel again being the exception.
Building the tower seemed like an impossible task at the time: Eiffel's previous experience lay mainly in bridge building, and his plans for the tower were roundly condemned for both practical and aesthetic reasons. Émile muses that "to construct something so high, higher than anything ever built before, seemed like trying to articulate a dream." Colin's moody, atmospheric novel captures both the idealism and the frustration of trying to chase one's dreams, trying to fashion a more compelling life or simply realize an artistic vision. For those who have visited Paris or enjoy traveling to the City of Light on the page,
To Capture What We Cannot Keep
provides a captivating glimpse into the origin story of a cherished Parisian icon. --
Katie Noah Gibson