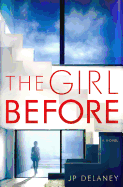 Emma insists to her boyfriend, Simon, they can no longer stay in their apartment after her traumatic assault during a break-in. Their lease is almost up and they've not found a suitable alternative--Emma identifies security risks with everything in their price range, until the realtor mentions a special house: One Folgate Street. It's a fantastic property, but the owner is not your typical landlord.
Jane loses her job. She can no longer afford her current flat and has to find something new. So when her realtor mentions another possibility--an amazing place, really--Jane asks, " 'An amazing property on my budget? We're not talking about a houseboat, are we?'
'God no. Almost the opposite. A modern building in Hendon. A whole house--only one bedroom, but loads of space. The owner is the architect.' "
A great house for little money? Surely there must be a catch. And indeed there is. It's not a typical lease agreement, which is especially fitting since One Folgate Street is not a typical rental.
Writing under a pseudonym, JP Delaney has crafted a psychological thriller around a distinctive building that enchants both Emma and Jane because of its minimalist design. Jane describes her first viewing: "[B]are walls, made of some expensive cream-colored stone, that soar into the void of the roof. The upper floor is reached by the most crazily minimalist staircase I've ever seen. It's like something hewn into a cliff face: floating steps of open, unpolished stone, with no handrail or visible means of support.... I look across at the next room, if room is the right word for a free-flowing space that doesn't actually have a doorway, let alone a door."
Each woman is so taken with the rental she is willing to accept the roughly 200 stipulations of the restrictive covenant--no pictures, no potted plants, no books, no ornaments--and complete a long application packet, submit three photos of herself and meet for a face-to-face interview with the owner, Edward Monkford.
The Girl Before is told in alternating points of view, with the chapters rotating between the voices of Emma and Jane, each residing at One Folgate Street, several years apart. The two women are dramatically different personalities, but their experiences in the home--including an affair with Monkford that works to weave a darkly erotic element into their stories--begin to mirror each other's. And the longer they are at One Folgate Street, the more normal the minimalist existence becomes--"So many things about this way of life that once seemed onerous are now habitual." Each time Delaney reveals one answer, there's a new twist to the storyline and more questions result. The short chapters and constant uncertainties keep the pace of the novel swift and engaging.
Delaney's use of One Folgate Street as a setting that functions very nearly as a character itself adds additional intrigue. The integration of high-end technologies contribute to the eerie atmosphere as the house constantly watches and monitors its inhabitants, knowing when they want to enter, cook, shower or change the lighting. While this surveillance is touted as eco-friendly and beneficial to the resident, it also exudes an ominous Big Brother quality.
Interspersed throughout the novel are some of the questions Emma and Jane answer on their rental applications. The queries are obviously psychological in nature--"You have a choice between saving Michelangelo's statue of David or a starving street child. Which do you choose?"-- adding to the suspense and forming a framework for the book, much like the structure of a house. Readers aren't privy to how Emma and Jane answer all the questions, but they will likely find themselves pondering their own responses, as well as their own possessions, as they engage with a story full of detail and substance about a house devoid of both.
One Folgate Street may be sparse but The Girl Before is not. Intense and entertaining, it's a satisfying read for fans of domestic thrillers, and minimalists may find some new ideas. Either way, shuck off the unnecessary commitments and settle in for a wild stay in an innovative house packed with mystery. --Jen Forbus