For In Sunlight and in Shadow, Lawrence Block commissioned an anthology of 17 superbly crafted stories inspired by the paintings of Edward Hopper. He explains: "Edward Hopper is surely the greatest American narrative painter. His work bears special resonance for writers and readers, and yet his paintings never tell a story so much as they invite viewers to find for themselves the untold stories within."
Contributors are Stephen King, Joyce Carol Oates, Robert Olen Butler, Michael Connelly, Megan Abbott, Craig Ferguson, Nicholas Christopher, Jill D. Block, Joe R. Lansdale, Justin Scott, Kris Nelscott, Warren Moore, Jonathan Santlofer, Jeffery Deaver, Lee Child, Gail Levin and Lawrence Block himself. We asked some of them about their affinity with Hopper, why they chose that painting and what type of literal and imaginative interpretation they had to balance in writing their story.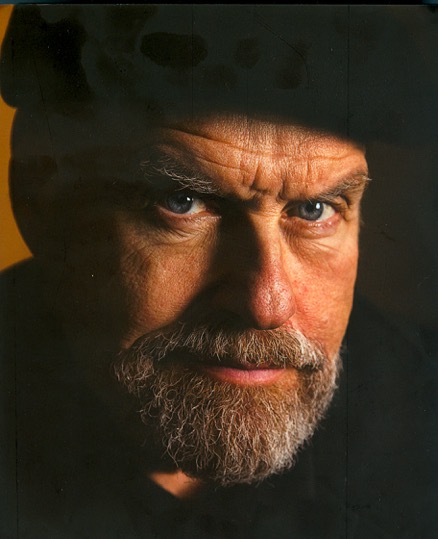 Lawrence Block
Lawrence Block ("Autumn at the Automat," inspired by 1927's Automat)
It was quite a few years ago when I wandered into a Hopper show at the Whitney, and I've been an enthusiast ever since. While some of his work turned up in some of my fiction--Keller had a print of Nighthawks hanging in his Turtle Bay apartment--I never anticipated any closer professional ties to the painter.
And then one afternoon the idea for this anthology came from absolutely out of nowhere. The thought was there, and I've no idea what thought preceded it. The title--In Sunlight or in Shadow--came in the next breath, and within the hour I was drafting a letter of invitation even as I was making up a wish list of potential contributors.
Almost everyone I invited wanted to come to the party! Not because I could offer them anything substantial, and certainly not because they lacked for things to do. No, the credit goes entirely to Edward Hopper. He stirs something profound in people who look at his paintings, and this seems to be particularly true with writers and readers. Not, I don't think, because he's a narrative painter. He's not. His paintings don't tell a story. What they do is suggest, subtly but irresistibly, that there's a story to be told. They open a door, and I was lucky enough to persuade all these writers to walk through it, and to share what they found on the other side.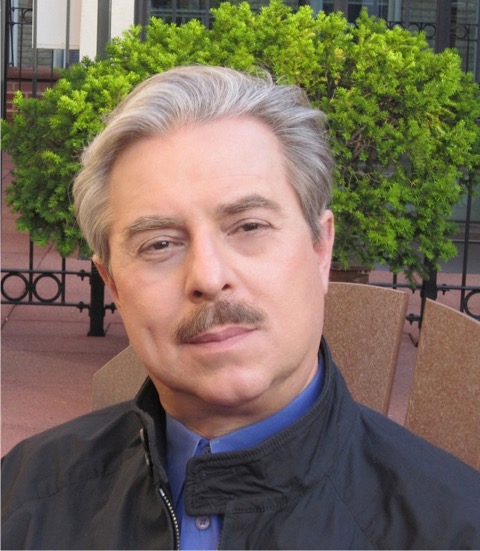 Nicholas Christopher
(photo:Constance Christopher)
Nicholas Christopher ("Rooms by the Sea," inspired by 1951's Rooms by the Sea):
Edward Hopper said that he aspired to "to paint light" with clarity. He did so with amazing subtlety in this canvas. The irregular quadrilaterals of sunlight on the wall and floor, and, partially visible, on the wall of the secondary room, powerfully draws you into the painting. Hopper was a master at rendering rooms and landscapes devoid of people. Often his canvases are populated. But for me, some of his most captivating work contains no people, only buildings, whether in New York City (Early Sunday Morning), Cape Cod (Lighthouse at Two Lights) or in darker, more obscure corners of America (House by the Railroad).
Rooms by the Sea is a Cape Cod painting, though it could be set anywhere by the sea. As with nearly all Hopper's outdoor subjects, it was adapted from an actual structure: his summer house in Truro. In that house, the door overlooked the sea from a high bluff. What is riveting in the painting is the extraordinary fact that the door opens right onto the ocean--at sea level. One enters from the water, and exits into (or onto) the water. That is what inspired my story.
I loved the idea of a mundane door, replete with knob, catch and sill, that operates in a world both literal and fantastical. A world I was able further to fictionalize by inserting my own characters in the story they inhabited. Hopper provided the setting, and my imagination began its work there. That he did not introduce characters of his own was essential; they could not have coexisted with the characters I conjured.
The only balancing I had to do was to make my story work on its own terms.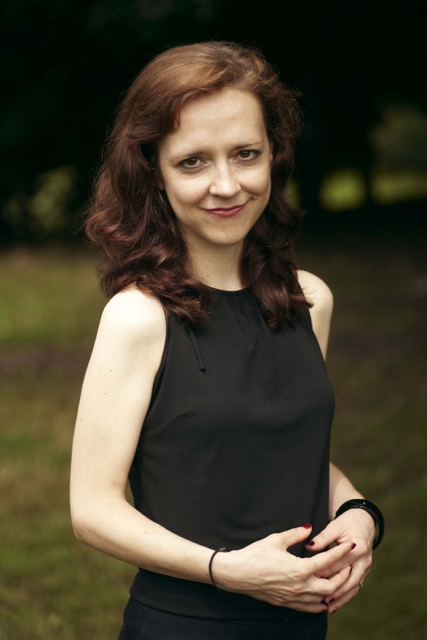 Megan Abbott
(photo: Drew Reilly)
Megan Abbott ("Girlie Show," inspired by 1941's The Girlie Show):
Girlie Show has always been one of my favorite Hoppers. I love the world of burlesque, so that was my initial fascination. I imagined how fun it would be to write in that world. But, beyond the subject, it's one of those paintings that, every time I see it, it looks different, changed. Sometimes, the woman seems strutting; other times, haunted. Sometimes jubilant and other times vulnerable. Sometimes, I feel the painter's hand treating her cruelly, wanting to expose her. Is she garish or glorious? Maybe it depends who's looking and when.
I'd read a bit about how Hopper used his wife, Jo, as his model (as he often did) for his initial sketches for the painting. There was such a big difference between those early sketches of Jo and the final painting. I started thinking about the chasm between how the painter feels about the subject and how the subject feels about herself. I began imagining a story about a painter and his wife--not Hopper and Jo, which felt too literal, but another pair. The obsessive, difficult artist is a vantage point we know so well, but what if the subject is much more interesting (perhaps she always is!)? What if my wife-model Pauline turned out to have all the delicious complications and secrets? And the story started to come to life.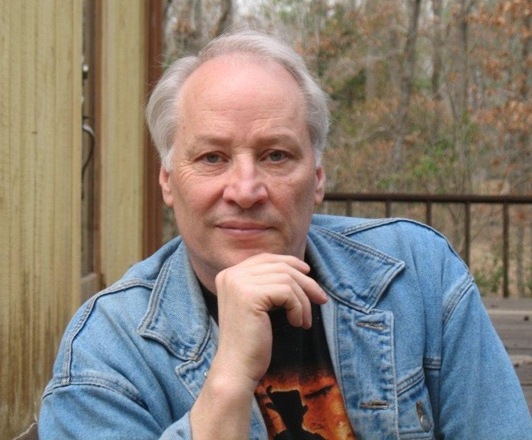 Joe Lansdale
(photo: Karen Lansdale)
Joe R. Lansdale ("The Projectionist," inspired by 1939's New York Movie):
The painting I chose had to do with one of my passions. Theaters, both stage and film. I love how they look, how they make me feel, and I love plays and films. I found something lonely about the lady usher, and the story naturally came from that. The colors had something to do with it, bright and at the same time melancholy. I think that is one of the artist's odd abilities, to paint something colorful, but capture a nearly hidden mood of loneliness.
I took the idea of the usher and thought, who's looking at her? It occurred to me if it's a theater for film, the projectionist might be looking down at her. That was all it took. The story grew from there.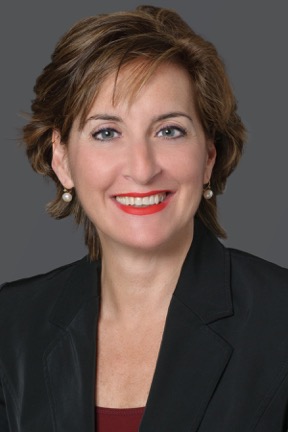 Jill Block
Jill D. Block ("The Story of Caroline," inspired by 1947's Summer Evening):
I chose Summer Evening for my painting right away. I was interested in exploring this moment in time, in which these two people, alone together on a porch at night, seemed to be in such different places emotionally. I noted his easy intimacy, the way he slouched casually on the ledge, facing her, wanting something. And that was sharply contrasted with her stiff, stark exposure, her bareness which felt like defeat. She was wide open, uncovered, with little clothing and no shadow in which to hide. I sensed that she had a secret that she needed to tell, and that he was going to be surprised by it.
While the story takes place many years after the moment in the painting, there is a direct line of causation from then to now. Had the conversation that took place that summer evening on the porch gone another way, the present-day story would be very different.
Summer Evening was painted in 1947. In "The Story of Caroline," the conversation on the porch took place in 1968. I wanted the conversation on the porch to have taken place not long before Roe v. Wade, so that in the present day story the difficult decisions that were made, the terrible secrets that had been kept, would seem quaint.
What I like best about the story is that we see that the worst moments sometimes turn out to be the best moments.