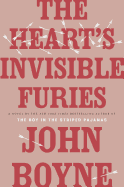 The Heart's Invisible Furies is an astonishing, sweeping novel that explores the complexities of relationships, the influence of religion and how connections with the most significant people in our lives often happen serendipitously, evolve over decades, change within moments and last a lifetime. This transcendent work by Irish author John Boyne (The Boy in the Striped Pajamas) offers more than a captivating story; this masterpiece of enveloping fiction marks Boyne's ascension as one of literature's finest writers.
Boyne dedicates this book to John Irving, inviting well-deserved comparisons to the legendary author's oeuvre. Like Irving, Boyne demonstrates his proficiency in infusing expansive drama in epic works with broad and complex themes of identity, place, love, family and friendship.
Spanning seven decades, The Heart's Invisible Furies begins in 1945 with an emotionally wrenching scene indicative of the times. Father James Monroe, a Catholic priest, is spewing a hateful tirade from the pulpit against pregnant 16-year-old Catherine Goggin--in the presence of her family and every parishioner in the rural Irish village of Goleen, West Cork. Despite being repeatedly vilified and denounced as a whore, Catherine refuses to acquiesce to the priest's demands to name her child's father. Fleeing her home in shame and defiance, Catherine travels to Dublin to begin a new life and places her newborn son up for adoption.
Cyril is raised by Charles and Maude Avery, a wealthy, perplexingly aloof, self-absorbed and sexually obsessed couple who regard him as "some sort of small adult who had been foisted upon them." In some of Boyne's most poignant uses of dark humor, they repeatedly remind Cyril that they are, in fact, his adoptive parents--they are always addressed accordingly--and that he "isn't a real Avery." The interactions among Cyril, Charles and Maude rank among the most hilariously dysfunctional of families, and represent one of Boyne's hallmarks as an author. By injecting humor and irony into emotionally cruel instances like these, he skillfully evokes and solidifies readers' compassion for the young boy.
After being charged with financial wrongdoing, Charles hires prominent attorney Max Woodbead, who visits the Avery estate along with his self-assured and cocksure son, Julian. The boys are the same age and even at this early juncture in the novel, the reader understands that this is not a casual encounter; these two friends will become key players in each other's lives. For Cyril, the friendship becomes more than fraternal; he realizes he is attracted to and deeply in love with Julian.
As Cyril grows into a full realization of himself as a gay man living in Dublin, he does so while being deeply aware of the political, religious and cultural ramifications. "It was a difficult time to be Irish, a difficult time to be twenty-one years of age and a difficult time to be a man who was attracted to other men," he explains as the novel progresses into the mid-1960s. "To be all three simultaneously required a level of subterfuge and guile that felt contrary to my nature. I had never considered myself to be a dishonest person, hating the idea that I was capable of such mendacity and deceit, but the more I examined the architecture of my life, the more I realized how fraudulent were its foundations. The belief that I would spend the rest of my time on earth lying to people weighed heavily on me and at such times I gave serious consideration to taking my own life."
He doesn't, thankfully; instead, Boyne uses the trajectory of Cyril's life as a parallel to the history of the LGBTQ movement through the decades. One of the novel's most heartwrenching scenes comes when Cyril is living in New York, volunteering in a hospital and visiting a patient dying of AIDS. "A line came into my mind, something that [philosopher and political theorist] Hannah Arendt had once said about the poet Auden: that life had manifested the heart's invisible furies on his face." It is then that Boyne's purpose and meaning in his expansive novel becomes especially clear; within each person's heart resides all the pain and passion contained in that individual's past.
As Cyril moves from Dublin to Amsterdam to New York and, finally, back to Ireland, his journey from 1945 to 2015 becomes one of discovering a physical and emotional place of belonging in a difficult yet beautiful world. Through Cyril's quest to live authentically and truthfully, his path inevitably crosses with others who are also struggling to reconcile with and atone (if only to themselves) for their mistakes, betrayals and fallible natures. Boyne is brilliant at immersing his plot with seemingly small events, coincidences and details that the reader will instantly recognize as being pivotal in his characters' lives. (The desire to reach through the pages to guide and nudge Cyril is strong.) The Heart's Invisible Furies spectacularly demonstrates the myriad ways each of our fates become connected and intertwined with others, and the indelible influence those in our lives have in shaping our souls. --Melissa Firman