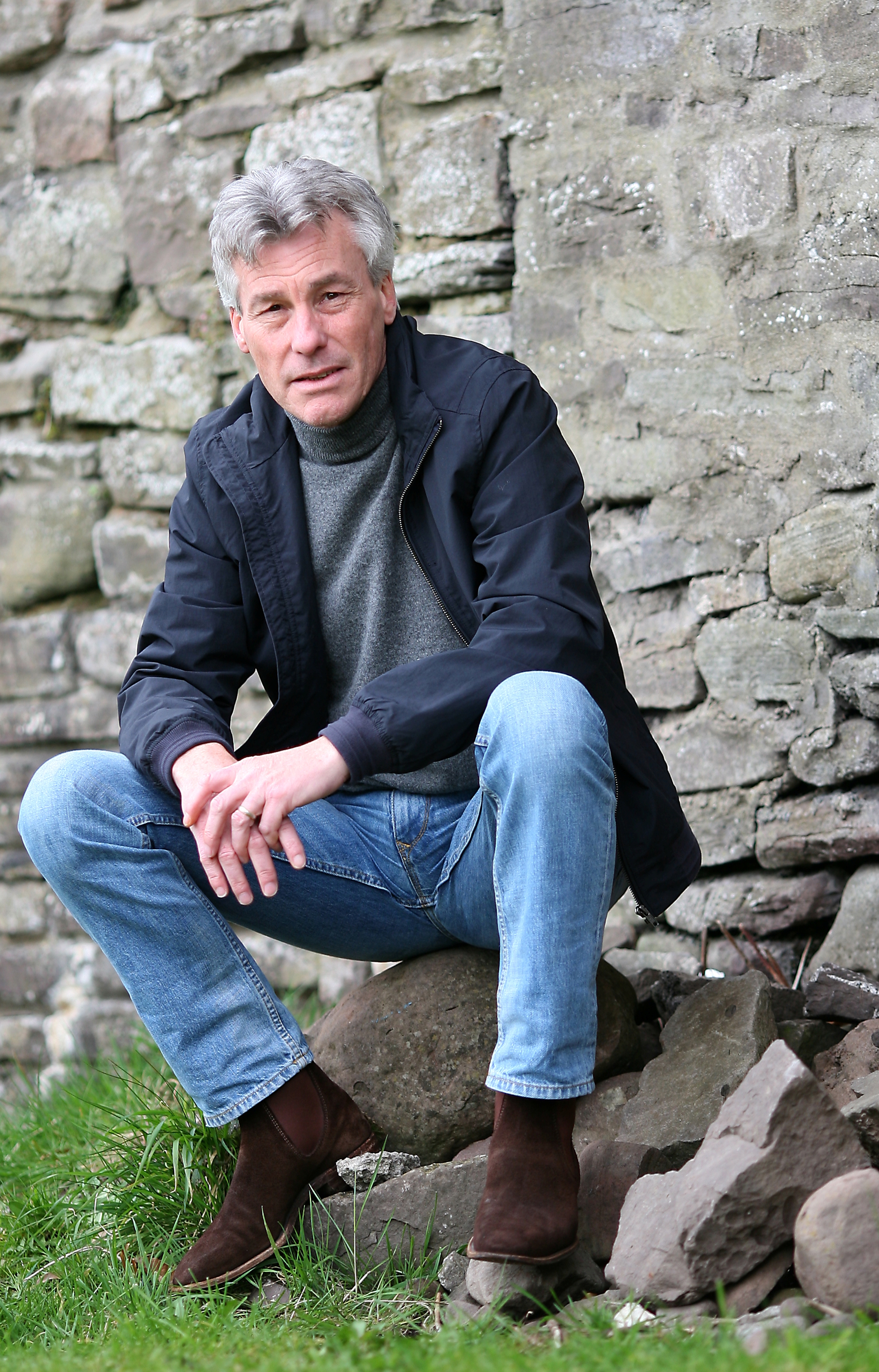 U.K.-born author JM Gulvin has written numerous novels, as well as Ewan McGregor and Charley Boorman's bestselling travel book Long Way Down. The Long Count: A John Q Mystery (coming from Faber & Faber October 6), begins a new series. Gulvin is married and has two daughters, and divides his time between Wales and the western U.S.
JM Gulvin knew from the age of 10 that he was destined to be a writer. Ironically, he realized this fact through a hard lesson in mathematics. He recalls, "When I was very young I couldn't do mathematics. I did poorly at maths to the point that I copied off the guy sitting next to me, Paul Bellchamber. One day Paul wasn't there, we got tested and I got found out. I copied him so badly that my handwriting emulated his. The teacher ridiculed me in front of the class. You could still stand kids in the corner for a day, and she did."
That was enough to discourage Gulvin from returning to school for a while; however, quitting school at the age of 10 isn't usually an option. He begrudgingly returned. Math didn't improve, but he made an important discovery: "I wrote a story about a child trapped in an old windmill. My teacher held it up to the class and she asked them whose it was. My classmates said it was Paul Bellchamber's because they recognized the writing. And I just thought my teacher was going to do it to me again. I wanted the ground to open up and envelop me. But instead she said, 'No, it's not Paul's, it's JM's and I'm going to read it to you because it's really good.' "
The actual career wouldn't come for some time. Gulvin spent many years working in sales by day and writing at night. His fortitude fueled those challenging times: "I was always determined to be a writer, it was the only thing I could be, so I would come home at night--I was married to my first wife at the time and I had two very young daughters--but I would do it maybe three hours a night every night for 15 years until I finally got a book published." And even though he's been writing full time for 20 years now, the thought of returning to sales still haunts him: "I have my moments; writing's a precarious occupation financially. Whenever I have one of my precarious moments I end up having a dream. I'm back in a sales job and I don't know anything about the company. I don't know anything about the product. I don't know anything about the customers. And I'm perpetually trying to wing it." Despite the dreams and some minor detours along the way, the only sales Gulvin has to worry about these days are his own book sales.
One of the detours in his career was the turn that took him into ghostwriting. "I wasn't really writing what I wanted to write fictionally. I was trapped in a little avenue where I didn't want to progress." But unless he wanted to return to those sales jobs, Gulvin had to find a reliable income stream. Fortunately, a few opportunities landed in his lap based on his previous writing. His fiction editor called, needing "someone to rewrite a book completely and utterly from a woman's point of view in two weeks flat. The only person I could think of was you."
With the success of that book, Gulvin went from the woman's point of view to men on motorcycles, specifically actors Ewan McGregor and Charley Boorman on motorcycles. "I was lucky because I got to do Long Way Down which is about their motorcycle trip all the way from Scotland through Africa, and I got to go on parts of it with them. I was riding a motorbike in the highlands of Ethiopia with Ewan McGregor and Charley Boorman. It was fantastic." Long Way Down wasn't entirely exotic road tripping for Gulvin. The looming deadlines for this book also placed heavy demands on him. "I couldn't go on all of the trip because the book wouldn't get written, so most of the time they were sending me videos back; I would watch the videos and pretend to be Ewan and pretend to be Charley and write the book. It was incredibly stressful." Gulvin's hard work paid off, and Long Way Down became a bestseller. Despite the success of the book and his subsequent titles as a ghostwriter, Gulvin says, "If I never have to do it again, great!" And that may very well be the case.
In October, The Long Count, Gulvin's first book in his series featuring Texas Ranger John Quarrie, will be published by Faber & Faber in the United States. In addition to challenging himself with a country that isn't his native home, Gulvin has set the series in the 1960s. Why this era? "It made perfect sense because what I wanted to do with John Quarrie was have a character who appears to have lived in the 1870s but actually lives in the 1960s. The Texas Rangers in the '60s were just evolving from the old school western lawmen into a modern American police service, so Quarrie's on the cusp of that change." Gulvin likes that his hero carries two pistols and no cell phone. If he wants to make a phone call on the road, John Q stops at a phone booth.
Lack of technology aside, the geographic location and time period do present some challenges. In order to keep his vision of Quarrie's environment unsullied by modern advances, Gulvin kept his hands-on research to a minimum. "I drove through [Texas] and I didn't really stop except for small towns, which haven't changed very much. I was able to give myself a landscape and some of the conversations that you get in bars and cafes and what have you." His approach seems to be effective. The authenticity shines in The Long Count. For example, when readers first meet John Q., he and his best friend Pious Noon are catfish grabbling--hand fishing. Gulvin's never tackled this sport himself, "but I've seen people do it. It's amazing, those flatheads, the big ones, 57-60 pounders. That takes some doing. And they bite you. I mean, they don't have any real teeth but they bite you and it's brilliant to see. People don't do that [in Wales], so for a Brit like me, catfish grabbling is just fantastic. I love it."
Gulvin saves the actual writing until he's back in Wales. He finds the distance helpful in his construction of John Q's world, "I'm probably seeing things in a slightly different perspective. Not that it's a better or worse perspective, it's just different. And that may give the stories that kind of sepia tint."
In sepia, black and white or full color, The Long Count is an atmospheric novel that brings a bygone era to life, and JM Gulvin believes, "I now think I'm doing exactly what I should be doing, what I was born to do." Book one in his John Q series seems to indicate he's right. --Jen Forbus