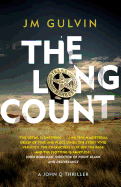 British-born writer JM Gulvin ventures to 1960s Texas for the beginning of a fresh, new series featuring Texas Ranger John Quarrie. A widower and a veteran of the Korean conflict, Quarrie lives with his young son, James, in a rented cabin on the Feeley ranch in Eastern Texas. Though they have a house of their own, this arrangement allows Quarrie to leave for his Ranger assignments knowing that others working on the ranch are willing and able to look after James, including his best friend's mother and sister.
They are called on right away in the opening of The Long Count when Quarrie is summoned across the state to Marion County to investigate a violent attack on a police officer. Vietnam War protests are keeping law enforcement busy, and no one closer is available. On his drive over, Quarrie answers a sheriff's dispatcher in Monktown when nothing but silence responds to the radio call. A possible breaking and entering turns out to be a gunshot death. And when the sheriff's deputy finally arrives, Quarrie shares with him evidence he found that points to a murder, staged to look like suicide. But it's not Quarrie's case and the rightful law enforcement officers are on site, so Quarrie heads out to his own job.
When he arrives in Winfield, Quarrie learns that the assaulted officer has died and a woman was subsequently found beaten to death, possibly by the same perpetrator. As Quarrie follows the clues, the bodies continue piling up and a connection is uncovered between the murders in Winfield and the death in Monktown: a psychiatric hospital for the criminally insane called Trinity Asylum. Secrets surround everyone connected to Trinity, and Quarrie is certain they contain the key to discovering who is committing these atrocious crimes. But if he doesn't unveil the truth quickly, the body count will only increase.
With atmosphere as thick as the Southern humidity and an old-fashioned hero readers can root for, The Long Count builds the foundationfor a solid series. Readers will wade through the waters of the Red River with Quarrie and his best friend Pious, feeling for the reverberation of catfish in the sand of the bed:
"They were close to the bank now, in among trees where the roots had broken through, and Quarrie was feeling his way with his toes. As he moved to his left he felt the opening of a large hole and there easing his foot across the muddy entrance pretty gingerly, for fear of cutting a toe on some piece of sharpened steel. He was searching for any kind of vibration in the riverbed, the thump of a flathead's tale."
They'll sway to the beat of a dance hall pumping out the music of Quarrie's cherished memory of his deceased wife:
"The ballroom was world famous for swing and honky-tonk, and Mary Clare could swing dance better than anyone. Not much more than a warehouse really, a façade constructed in adobe brick, inside it was one large room under a shallow pitch with a polished wooden floor and a bar. Driving all the way up from Amarillo one Saturday, they had danced into Sunday morning."
Through Quarrie's adventures and memories, his words and actions, Gulvin artistically shapes a man who's honest, compassionate, fair and principled. Quarrie is a strong man and skilled as well. He's no slouch as a Ranger, and his abilities are treated seriously; there's no hint of apathy when it comes to the gravity of his occupation:
"Chief, I could put a pair in you and holster again before you could get the message from your brain to your trigger finger.... If you've been checking, you'll know I got a son to bring up on my own. Right before she died, I promised his momma I'd take care of him so making sure nothing happens to me is something I study on."
With the strong foundation in sense of place and dimensional characters, Gulvin is able to layer on his gripping psychological plot. The carefully situated twists and red herrings build a suspense level that grips the audience--already thoroughly invested in the book's protagonist--then notches up their heart rate. The Long Count is the definition of an engaging crime novel.
JM Gulvin has taken his fiction building blocks, arranged them in a durable groundwork, built upon that infrastructure for a sound mystery and even decorated his construction with the details that distinguish good from great. His dialogue drips with authenticity indicative of time and place, adding the perfect flourish to Quarrie's introduction, "Sergeant... we haven't had a murder in this town since God was in britches." Well, hang on to your hats, y'all, because John Q is just getting started. --Jen Forbus