Shelf Awareness for Readers for Tuesday, July 16, 2013

Book Candy
15 YA Books for Adults; Books in Dance
"Young-adult books are almost inescapable, even if you haven't visited the teen section of your local library since high school," Mashable noted in featuring "15 young-adult books every adult should read."

---
Words that dance. Flavorwire drew back the curtain on some "beautiful dance performances that incorporate books."

---
Pop quiz: Buzzfeed asked: "Who Said It: Pablo Neruda or Taylor Swift?"

---
Do you love Hamlet? "You're sympathetic to the fate of the high-born slacker with daddy issues." Flavorwire explained "what your favorite Shakespeare play says about you."

---
Mark Lowery, author most recently of Pants Are Everything, shared the "top 10 embarrassing moments in children's books." in the Guardian.

---
Bookish DIY: Bloomize offered step-by-step instructions to "fold a heart page marker."
A Reader's Life
Stranded on a Desert Isle with More Professors than Gilligans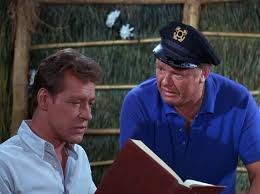 Daniel Defoe's Robinson Crusoe may have been my first desert island read, but Gilligan's Island probably had more archetypal impact upon me. The S.S. Minnow offered a peculiar vision of 1960s diversity (two sailors, two one-percenters, a celebrity, an all-American girl and an academic). The Professor intrigued me because he was the only passenger with the foresight to bring books on the ill-fated "three-hour tour." Once stranded, he begins writing "a chronicle of our adventures on the island," telling Gilligan: "I think it's a book people will buy, don't you?"

Last month, we invited Shelf Awareness readers to submit their own desert island reads. While the most popular choice by far was The Complete Works of William Shakespeare, the responses also showed that if we were all stranded together, our tropical library would be impressive indeed.

"I'd be glad to be alive following the shipwreck but would have the work of a pessimist, that tiny old students' portable Schopenhauer with the red & black cover, in a secret pocket," wrote author Valerie Trueblood, whose list also included Whitman's Leaves of Grass, Antonio Machado's poems, Hardy's Complete Poems, Eudora Welty's stories and Janet Lewis's "perfect" The Wife of Martin Guerre.

Annie Carl, a bookseller at Third Place Books, Lake Forest Park, Wash., chose The Neverending Story by Michael Ende ("My favorite book, and one I can read over and over."), Jonathan Strange & Mr. Norrell by Susanna Clarke ("A book I've never read because 'I just don't have to time for such a long book!' I totally would on a desert island."), The Complete Calvin & Hobbes by Bill Watterson "for perspective. And giggles," Spirit Horses by Alan S. Evans "because I love horses like I love books, so I need to have a beautiful horse book to assuage my addiction" and the collected works of Jane Austen "for comfort during the long, terrifying desert nights (I'm picturing episodes of Lost here)."

What else is now shelved in our desert island library, thanks to you? Here are some highlights:
The Bible and "a really good book on tropical survival."
The I Ching "so I could figure how to handle being stranded on a desert island," Jonathan Franzen's America "to help me remember how peaceful it is to not have a crazy family around" and Maira Kalmen's Principles of Uncertainty "so I could be inspired to make black ink from a dead beetle, red and blue ink from berries. Sheets of dried palm for paper, and a brush from the hair of a rodent. Then paint my life with commentary."
Winter's Tale by Mark Helprin, Cloud Atlas by David Mitchell, The Norton Anthology of American Literature and Patrick Rothfuss's The Name of the Wind
The Pickwick Papers by Charles Dickens, Poems of Edna St. Vincent Millay and Tolkien's Lord of the Rings trilogy
"Christopher Moore's Island of the Sequined Love Nun, of course."
"I'm with Margaret Thatcher (on this, if nothing else); I'd bring along a survival manual! And maybe a couple of Norton Anthologies for pleasure reading."
The Ashley Book of Knots, "along with some rope and be able to entertain myself almost endlessly."
The Golden Notebook by Doris Lessing, Prince of Tides by Pat Conroy, Long Day's Journey into Night by Eugene O'Neill, The World According to Garp by John Irving and The Catcher in the Rye by J.D. Salinger
Henry Beston's The Outermost House, Collected Works of William Butler Yeats and Jon Kabat-Zinn's Wherever You Go, There You Are ("If I can't finally learn how to meditate on a desert island, there is no hope of me ever learning.")
Finder by Carla Speed McNeil, The Dark Is Rising by Susan Cooper, Kushiel's Dart by Jacqueline Carey, Metamorphoses by Ovid and Julian May's Galactic Milieu Trilogy
David Mitchell's Cloud Atlas, Margaret Atwood's Oryx and Crake, Margaret Mitchell's Gone with the Wind, L.M. Montgomery's Anne of Green Gables and Michael Chabon's The Amazing Adventures of Kavalier and Clay
Anthony Trollope's Palliser novels, "several" Maeve Binchy books and "a Thomas Friedman book--anything but The World Is Flat; perhaps the recent That Used to be Us."
A Prayer for Owen Meany by John Irving, Fitzgerald's The Great Gatsby and the poetry of Gerard Manley Hopkins
A Country Year: Living the Questions by Sue Hubbell, West with the Night by Beryl Markham, The Little Prince by Antoine de Saint-Exupéry, The Last Grain Race by Eric Newby and A Midwife's Tale by Martha Ballard
Walker Percy's The Moviegoer, Jane Austen's Emma, Susan Fromberg Schaeffer's The Madness of a Seduced Woman, Trollope's Chronicles of Barsetshire and Portrait of a Lady by Henry James
I'll end this desert island sojourn with a line I used last Friday in my Shelf Awareness Pro column: Among booksellers (and, by extension, all readers), "Our island is never deserted, and there are always plenty of great books to read." --Robert Gray, contributing editor.
Book Review
Fiction
Whistling Past the Graveyard
by Susan Crandall
Here Comes Mrs. Kugelman
by Minka Pradelski , trans. by Philip Boehm
Memories of a Marriage
by Louis Begley
Letters from Skye
by Jessica Brockmole
Mystery & Thriller

Close My Eyes
by Sophie McKenzie
The Rules of Wolfe
by James Carlos Blake
The Twelfth Department
by William Ryan
Biography & Memoir

I Hate to Leave This Beautiful Place
by Howard Norman
Apologies to My Censor: The High and Low Adventures of a Foreigner in China
by Mitch Moxley
Essays & Criticism
I Wear the Black Hat: Grappling with Villains (Real and Imagined)
by Chuck Klosterman
Children's & Young Adult

Bully
by Laura Vaccaro Seeger
Best Foot Forward: Exploring Feet, Flippers, and Claws
by Ingo Arndt