The Wurst That Could Happen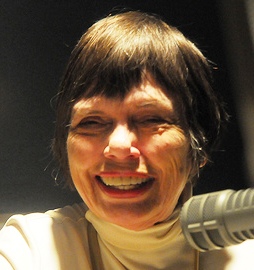 Mary Daheim's most recent book is The Wurst Is Yet to Come (Morrow), the 27th in her Bed-and-Breakfast mystery series.
In early May 2011, I was racing to the finish line in my Alpine series for Ballantine Books when my William Morrow editor asked what the next B&B series book was about. I had no idea--hadn't given it a thought. But she needed the information for a catalogue meeting the next day. I had to act fast.
All I knew was that the Cousins would go out of town--they always do in every other B&B book. Where? Some place close by so I wouldn't have to do much research. "Leavenworth," I said, thinking of the town in Washington State. "They're going to Oktoberfest." Did I have a title? More fast thinking. "The Wurst Is Yet to Come," I said--if it was too dreadful, we could change it later. But she liked it.
I started the manuscript a week later. I don't plan my books. Where's the fun in that? If I'm not surprised, why should readers be? But that wasn't the problem--Leavenworth, Wash., is just over Stevens Pass from Alpine, so making the scenery different was a problem--it's still mountains, a river and trees. Luckily, the charming tourist town, which I called Little Bavaria in the book, features medieval German architecture, and Oktoberfest provided unusual settings.
However, law enforcement gave me pause. The local cops couldn't sound like Alpine's sheriff and his crew, so I created a police department with a chief who bears no resemblance to any other law officer I've described and hopefully to no one who actually exists. Despite the bumbling antics of Chief Duomo, I kind of liked him.
Some 50 pages into the book, the rest moved along at a typical B&B pace. As usual, Judith and Renie bicker, but they work together to bring a killer to justice. Maybe my frantic brainstorm wasn't the worst idea I've ever had. I mean, wurst.... --Mary Daheim