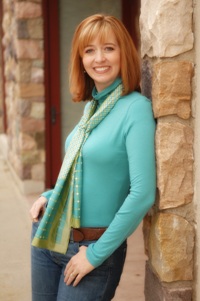 Shannon Hale received a Newbery Honor citation for Princess Academy, which introduced Miri and her classmates. Since then, she's written the graphic novel Rapunzel's Revenge with her husband, Dean Hale, illustrated by Nathan Hale (no relation), and its companion, Calamity Jack, as well as Austenland for adults. Her new book is Princess Academy: Palace of Stone.
What is wrong with writers that we're motivated by difficulty? Offer us a gentle meadow of a story and we shrug it off. Present a sticky swamp during hurricane season, and we're first in line.
In 2004, after finishing my middle grade novel Princess Academy, I considered writing a sequel. The characters and world had become like a second home, and I was excited to revisit once I'd finished two other books that were more shouty in my head.
And then Princess Academy won an award. Aided by the shiny silver sticker on its cover, the book reached more people than I could ever have hoped for. My inbox stacked up with e-mails detailing what readers imagined would happen next. I realized that Princess Academy didn't belong to me anymore. It belonged to its readers. They were already continuing Miri's story, and I was hesitant to interfere.
Several years and books later, I was still thinking about Miri. A new layer of her story popped into my head--not a happy ending, not an exciting climax, but a tricky complication. And like that, my resolve weakened. I'd been longing to return to Danland, and I needed to see how on earth Miri was going to get out of the mess I was itching to create for her.
I'd like to say I wrote Palace of Stone for the kids who requested it. Apparently I'm far too selfish. I wanted What Happens Next for me. And my internal reader--that demanding being who I write everything for--is finally content. For now. Because while writing the second book, a third story began taking shape in my head. It's napping now. Perhaps another terrifically complicated, swampy hurricane of an idea will wake it up. --Shannon Hale