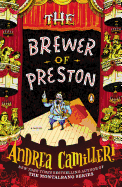 Published in Italian in the 1990s just as Andrea Camilleri was creating the first of his popular Inspector Montalbano mysteries, The Brewer of Preston is another of Camilleri's darkly comic Sicilian historical novels (Hunting Season) that take place a century earlier in the Inspector's fictional city of Vigàta. Translated for the first time into English, the book centers on the gala opening of the port city's new theater on December 12, 1874, shortly after the unification of Italy. The disastrous production of a Florentine opera--Il Birraio di Preston, about identical twins in an English brewery--forced on unsympathetic Sicilian townsfolk by corrupt Italian officials results in verbal abuse from the audience that becomes a riot and a fire that destroys not only the theater but the neighboring apartment house, causing the intervention of the militia and three deaths.

Sophisticated, carnal and wildly funny, Camilleri's depiction of that night is a farce on a grand scale. The tempestuous politics and convoluted scheming surrounding the doomed production are just as byzantine as any opera. Camilleri delights in double-talk, innuendo, blatant lies and double-crosses. In the final 40 pages, the surprises go off like a string of firecrackers, as the veneer of respectability is shattered. Nothing is what it seems, and for good measure Camilleri concludes his theater-in-flames disaster with a whitewashed official account "rewritten" 40 years later by one of the characters.

Ferociously cynical, Camilleri juggles more plot threads in this slim volume than could be found in a bulky trilogy, all of which converge at a gallop in a finale full of Sicilian laughter, horror and tears. --Nick DiMartino, Nick's Picks, University Book Store, Seattle, Wash.