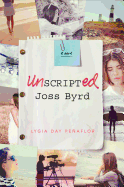 Lygia Day Peñaflor, an academic tutor for Hollywood "showbiz kids," gives readers a peek at life as a child actor in Unscripted Joss Byrd, her emotive, gritty debut starring a vulnerable young thespian, "the next Tatum O'Neal."

At 12, Joss Byrd reigns as one of Hollywood's darlings, but inside she knows she's just a "dirt-driveway kid" from Pennsylvania with a "hole in our bank account where there used to be my movie money" after her mother/manager, Viva, blew her earnings on a bad business plan. Critics rave about Joss's performances, but every day on set in Long Island's Montauk is a struggle for her, as she strives for infrequent morsels of approval from Viva and lives in fear that someone will notice her dyslexia. Her latest role as her director's sexually abused kid sister in the biopic of his own childhood has Joss overwhelmed. Frequent script changes, a crush on her 14-year-old movie brother, Chris, and scary run-ins with the Method actor playing her "pervy stepdad" leave Joss unmoored. When her mother has an affair with her director and agrees that her daughter will perform scenes dealing more intimately with abuse than her contract stipulated, Joss finds some support from the director's real sister, who disapproves of the film. Ultimately, though, Joss must use her own wits and grit to stand up to the adults who have power over her.

Peñaflor's on-set moments spark with insider accuracy, but the book's true strength lies in Joss's sensitive, engrossing voice, which sings with frustration, fear and hope. Despite her young age, the adult situations she faces will give the young teen set plenty to digest. --Jaclyn Fulwood, lead librarian at Del City Public Library, Okla.