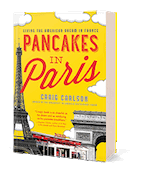 Why would a former Hollywood screenwriter, with no business or restaurant experience, open an American diner in Paris? Pancakes in Paris answers that question by recounting Craig Carlson's wildly circuitous journey to living his dream in the "City of Lights." A determined, tenacious risk-taker, Carlson unscrambles the unconventional aspects of his life, tracing the chronological route he traveled to launch Breakfast in America, a popular restaurant chain located in the heart of Paris.
Carlson, now in his 50s, was raised in upstate Connecticut, the son of divorced parents and the youngest of four children in a poor Polish-Finnish immigrant family. His mother was bipolar and often institutionalized. His father, an alcoholic with a gambling problem, was a "swinging bachelor" known as "Fast Eddie" with the ladies. This left Craig and his siblings to be raised largely by his grandparents. "Despite all the evidence to the contrary... I always felt loved--just never wanted."
France was far from Carlson's radar. His first exposure occurred when he was seven years old. Carlson and his older sisters had been cruising around in Fast Eddie's "chick mobile," a rusted old station wagon, when his sisters started talking in French to shroud the details of their less-than-stellar opinion of their father. As Carlson listened to his sisters' exchange, he understood perfectly: "...I had a gift for languages right from the start."
This incident was just one of many eerie French-related coincidences. Carlson's mother eventually eloped to Florida with her boyfriend, a charmless French Canadian. And when Carlson, at age 12, went to live with his father in Frenchtown--a tough neighborhood infused with poverty and crime, where not a single French person lived--he quickly developed strong survival and entrepreneurial skills, which set the foundation for his future business endeavours. When Carlson had to select a foreign language to study in school, he chose French: "From that moment on, mon destin was set in motion."
Studying French inspired a sense of wanderlust in Carlson, who longed to escape small-town life. In his junior year at the University of Connecticut, he was selected to study abroad. A year in Paris, Normandy and Rouen seemed a dream come true, but tested Carlson's preconceived ideas about French living. He was assigned to live with a spinster--a "half mad genius, half schoolmarm" and terrible cook--who put Carlson and his roommate up in a backyard shed. A trip to the annual Gastronomic Fair in Dijon proved a turning point that encouraged Carlson to stay in France at the conclusion of the program. He rented an apartment in the Latin Quarter, worked at an English-language school and fell in love with French cinema.
When he returned to the States, he was accepted into the film program at the University of Southern California. He paid his tuition by becoming a contestant on Wheel of Fortune. His winning experience served as the subject for his short thesis, an award-winning film slated for an Oscar screening; it never happened because of the 1992 Rodney King riots. Carlson's chance for success fizzled until fate intervened again via a job lead for a French television show. When the show ended, Carlson, now in his 30s, came back to the States in search of a "good ol' American breakfast." When he stared down at a ham steak, scrambled eggs, home-fried potatoes and buckwheat pancakes, inspiration struck: "Paris has it all. The Louvre. The Eiffel Tower. Romance and fine cuisine. But one thing it doesn't have is an authentic American breakfast."
Carlson set out to change that, educating himself on the business of opening an American diner in Paris. The odds were stacked against him, but he developed a management plan for his diner, Breakfast in America (BIA), inspired by the title of a 1980s hit song. Acquiring rights to the name proved almost as difficult as landing investors for a project whose baseline costs escalated from $5,000 to $250,000. Yet again, he was forced to look for work. A job in the marketing department of the Walt Disney Company, and the unexpected good fortune of a later corporate buy-out package, granted Carlson the collateral needed to reel in BIA backers.
Bidding goodbye to L.A. and a girlfriend, Carlson moved back to France, where he scouted diner locations, met colorful personalities and, after facing repeated heartbreaks and disappointments, finally leased an old French café. Renovations, unreliable contractors and hiring competent staff--including chefs who had to learn how to cook American food--were as taxing as acquiring American ingredients such as peanut butter, cheddar cheese and maple syrup. By 2003, BIA opened its doors, serving breakfast all day, along with hamburgers and milkshakes. Just as business was taking off, America invaded Iraq and anti-Americanism soared in France. BIA, however, soon became featured in the press as a "cultural crossroads between conflicted countries," and also a place where anyone--French or American--could enjoy a good hamburger and even a traditional Thanksgiving Dinner.
For years, Carlson worked seven days a week. He assembled a strong restaurant team--a varied group of employees from different cultural backgrounds--though a few exceptions caused Carlson serious problems, including the inability to comply with the stringent, "screwy French system" of labor. Legal disputes with several disgruntled employees who took advantage of Carlson's good nature ultimately led to Carlson's arrest and forced BIA to shut down temporarily.
Despite repeated challenges, Carlson remained determined for BIA to succeed, despite differences between French and American cuisine, tipping policies and the concept of "doggie bags." BIA became a cultural hub, hosting literary nights and live music events, ultimately morphing into the supportive family that Carlson had always longed for. This realization led Carlson, in 2005, to finally address his long-time intimacy issues. He then met Julien--a loving, caring man and Carlson's soul mate. The love they share led to the launch of a second, and later a third, BIA location.
The detailed, linear facts of Carlson's frenetic, inspiring account speak volumes. But the tragicomic tone of Carlson's writing, along with cliff-hanger chapter endings, are what perfectly season the overall arc of this entertaining success story. At one point, when things seem most bleak, a friend of Carlson's says, "I know things are confusing right now. But I truly believe that one day your life is going to make sense. That all the twists and turns, all the ups and downs.... They happened for a reason." This wisdom propels Carlson to press on through hard times. And by the 10-year anniversary of BIA, Carlson looks back on his life-changing experiences and his accomplishments in living an American dream in the land of crepes and croissants with pride, nostalgia and an overt sense of gratitude.--Kathleen Gerard, blogger at Reading Between the Lines