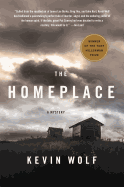 Reminiscent of the novels of James Lee Burke or John Hart, Kevin Wolf's debut,
The Homeplace
, captures life in small-town Middle America. Chase Ford was the first Ford man to leave Comanche County, Colo., in four generations. His basketball talent took him all the way to the NBA--and then to rehab when both his career and marriage crashed and burned.
Back in Comanche County for the first time in 16 years, Chase is hoping to lay some old ghosts to rest. Unfortunately, his return seems to have triggered something dark in the tiny town of Brandon, where Chase's high school championship game is still proudly talked of. First, the new young basketball star, who is consistently compared to Chase, is found dead. Then Chase's former basketball coach is also found dead. And before long, two more people are missing. Can Chase help his old high school buddy, now a deputy with the sheriff's department, solve the crime before becoming a suspect?
While the motivations of the killer are a bit farfetched, Kevin Wolf believably portrays life in this obscure corner of Colorado, and the feelings of the people of Brandon, who are appalled at one death in their midst, let alone what appears to be a string of serial killings. With nuanced characters and an appealingly flawed hero,
The Homeplace
is an intriguing look at what can happen when someone returns to the scene of their youth after too long away. --
Jessica Howard
, blogger at
Quirky Bookworm