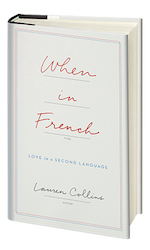 Growing up in North Carolina, Lauren Collins never expected to fall in love with a French man, much less spend years adapting to an entirely new language and culture. But when she found herself married to Olivier and living in Geneva, she decided to get serious about learning French, so she could converse with her new husband and her new countrymen and -women in their own language. Collins muses on the challenges, frustrations and surprising delights of living and loving in le français in her memoir, When in French: Love in a Second Language.
Collins, a staff writer for the New Yorker, has hit upon the perfect structure for her subject, naming her chapters after the grammatical tenses of French: the past perfect (le plus-que-parfait), the imperfect (l'imparfait), the subjunctive (le subjonctif), even the future (le futur). Collins takes readers along on her linguistic journey, exploring George Steiner's assertion that translation "occurs both across and inside languages." (emphasis Steiner's). While "love is both the cause and the continuance" of Collins's determination to learn French, she quickly realizes that her task is more complicated than swapping one set of words for another: to take on a new language is to try on a different way of seeing the world.
Although it is (as the subtitle suggests) a love story, Collins's narrative inverts the typical starry-eyed plot of an American abroad: she begins by admitting that a life in Geneva, where she lacked the language skills even to eavesdrop on her neighbors through their open windows, was not what she had envisioned. "I felt as though I were living behind the aural equivalent of a one-way mirror," she writes.
Frustrated at her sudden, almost total lack of voice, Collins signs up for a French-language class with a handful of other expats from assorted countries. All of them, she soon realizes, are there because they harbor ambitions similar to hers: to conduct the business of daily life in fluent French. In contrast to the tourist who parrots phrases from a guidebook or delights in the exotic buzz of an incomprehensible language, Collins points out, "The fantasy of the foreigner is a life more banal." As she conjugates unfamiliar verbs and struggles to decipher the daily newspaper (and to talk to her husband in French), Collins moves toward a new version of la vie quotidienne: complicated in some ways, perhaps, but infinitely richer than before.
Following her journalistic instincts, Collins also occasionally steps back from her personal story to explore the larger web of language, culture and history: the neuroscience of language acquisition in young children, the fraught history of monolingualism and multiculturalism in the U.S., the highly structured nature of both the French language and French society (with its piles of attendant paperwork). Gradually, Collins begins to view French grammar as "a secular catechism, its recitation both comforting and sublime."
Also comforting is Collins's warmhearted exploration of the differences, linguistic and otherwise, between her family and Olivier's. The cultural gaps are thrown into hilarious relief when their parents and siblings take a vacation together. While many romantic relationships prompt the blending of two families, intercultural marriages contain a particular set of challenges, and Collins expresses them in clear-eyed prose that is by turns entertaining and poignant. "I retreated to the linguistic version of a kids' table," she writes about an early encounter with Olivier's extended family. "I felt like a fool, but a sweet one--opened, in my wordlessness, to the possibility of an uncomplicated kind of love."
Despite her newfound and growing affection for French, Collins does not abandon her native language: if anything, she becomes protective of English, groaning inwardly at the mistranslations and missteps suffered by her mother tongue abroad. "French is a secret garden, but English, somehow, is everyone's property," she says. Although she is eager to explore each twisting pathway of le français, Collins also has a deep respect for English, and it shows in her precise, elegant sentences.
Love, like language, is rarely uncomplicated, but Collins makes the complexities of both seem akin to joys. The embarrassment of having told her mother-in-law she has given birth to a coffee machine (when she simply intended to write a thank-you note), the hilarity that ensues when her father tries to teach her brother-in-law swaggering lines from American mobster films, and other incidents combine to form "a complex polyphony, which sounded like none of us and all of us," and which will become the bilingual soundtrack of Collins's new life. When her mother-in-law writes her a letter saying, "Vous êtes faits I'un pour l'autre" ("You are made for one another"), Collins decides to take it in good faith--pledging herself to both the man she loves and his langue maternelle.
Witty, informative and studded with bon mots in both French and English, When in French is a thoughtful, ultimately joyous exploration of falling in love with, and through, words. --Katie Noah Gibson