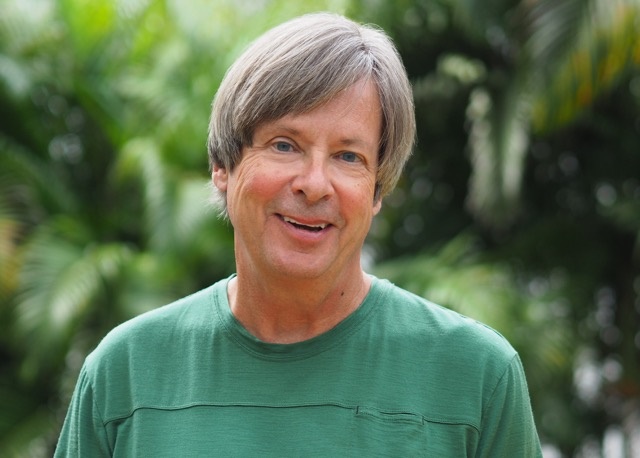 photo: Michelle Kaufman
Dave Barry is the author of Best. State. Ever.: A Florida Man Defends His Homeland (reviewed below). His most recent books include Live Right and Find Happiness (Although Beer Is Much Faster), You Can Date Boys When You're Forty, Insane City, I'll Mature When I'm Dead, and his Peter Pan prequels, written with Ridley Pearson. From 1983 to 2004, Barry wrote a weekly column for the Miami Herald that in 1988 won a Pulitzer Prize for commentary. He lives in Coral Gables, Fla.

What do you appreciate about daily life in Florida that makes you happy to call it home?

I love the climate. I love that a lot of people come to Florida to relax, enjoy themselves and party, which makes it feel like a less-serious place than, for example, Iowa. I love the casual insanity of my city, Miami. I also love that I can have close encounters with all kinds of tropical wildlife, sometimes in my own living room.

Other states have their share of humiliating news stories. Why do you think Florida wound up in the position of Most Laughed At?

Consistency. Other states produce the occasional person-does-something-stupid-or-weird story. But Florida produces these stories all the time, day after day, week after week, year after year. Florida is a nuclear reactor of stupidity and weirdness. These are our most abundant natural resources.

Why did you think the best way to defend Florida was by extolling the virtues of some of its most unusual attractions?

I wanted to show that if you look beneath the surface weirdness of Florida, you would find... okay, you would find even more weirdness. But it's a non-threatening, almost charming kind of weirdness. Old-time Florida had a vast array of sometimes sketchy roadside attractions designed to get tourists to pull over, take a look, spend some money. A lot of those attractions disappeared when the big theme parks moved in, but their spirit still hovers over the state, and I wanted to tap into that.

There's such a sense of fond nostalgia in your descriptions of these places. What do you think is the outlook for those that remain?

Not good, is my guess. Tourists tend to go straight to the big theme parks and stay there. It's getting harder to draw them to older, funkier, less-spectacular attractions. Modern kids expect to be dazzled by technology; it's hard to picture them wanting to stop and check out, say, a pink concrete roadside dinosaur, unless their cell phone told them there was a Pokémon Go thing there.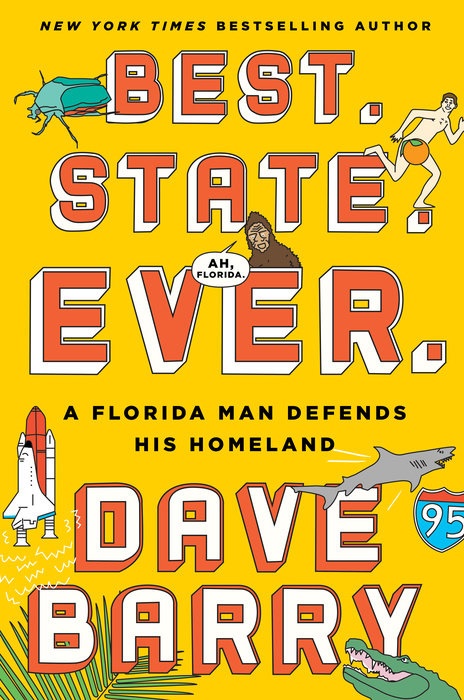 How did you decide which places to highlight?

I took a very informal survey, appealing to people on the Internet to suggest unusual Florida places to me. I also got some great suggestions from Tim Dorsey, who writes the hilarious Serge Storms novels and knows more about Florida weirdness than anybody. Then I went to the various places and experienced them the way any tourist would, except I took notes. Then I came home and wrote about it. Then I had a beer.

If you opened a weird roadside Florida attraction, what would it be?

It would be my lawn, which actually is by the side of the road, and which contains an amazing array of wildlife, for a lawn. I'm afraid to go out there at night without a flamethrower.

If this whole Olympic super-athlete thing doesn't work out for him, do you think Michael Phelps could hack it in a mermaid revue like that of Weeki Wachee Springs?

Michael Phelps probably doesn't need the work. But I would not be at all surprised to see Ryan Lochte donning a rubber tail.

Serendipitously, I'm planning a trip to Florida this summer, but I'm not interested in theme parks. What's your advice for making sure I see some genuine Florida atttractions?

Get off the Interstate and travel on the older highways. If you see something unusual--a giant alligator head, for example--pull over, get out of your car and take a look. It might be a unique Florida attraction. Of course it also might be a giant alligator, in which case you should get back into your car and get the hell out of there.

What is the difference between a crocodile and an alligator?

I think it has something to do with the snout. But I have no intention of ever getting close enough to the snout of either species, so I frankly don't care. Let them sort it out for themselves, is my feeling.

In a cage match between the Skunk Ape and the Aikanaka, the 8-foot-tall Hawaiian bigfoot, who would win?

I'm going with the Skunk Ape. They're both imaginary, but the Skunk Ape is even MORE imaginary, which would be a tactical advantage. The Aikanaka would be wondering, "How can I fight this thing when I don't even know if it's REAL?"

What's the weirdest thing that's ever happened to you, and did it happen in Florida?

I have a sewage lifting station named in my honor. It's in Grand Forks, North Dakota. They had a big dedication ceremony and everything, and now there's a building with a plaque on it that says DAVE BARRY LIFT STATION NUMBER 16. Inside is the equipment that lifts the sewage, which is a concept I do not understand. I would leave the sewage down there.

What's up next for you?

I'm going to Disney World!
But seriously, I'm going to write another book.
--Jaclyn Fulwood, blogger at Infinite Reads