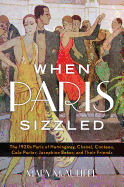 The unstated and subtle thesis of Mary McAuliffe's
When Paris Sizzled
is that the romanticized Paris of the 1920s was a reaction to the end of World War I. She considers the decade following the Great War through the lives of the artists who flocked to Paris, revitalizing Western culture for generations to come: James Joyce's friendship with Sylvia Beach, the owner of the English-language bookstore Shakespeare and Company; Coco Chanel's development from couturier to global phenomenon; and Maurice Ravel's making and remaking of his career alongside Stravinsky and Satie.
But despite the plethora of artists and literati that populate her book, McAuliffe (
Dawn of the Belle Époque
) manages to build her central theme by beginning in the laboratory of a scientist. McAuliffe uses Marie Curie as a silent backdrop throughout the book as a way to frame all the romance and idealism of Jazz Age Paris against the coming, brutal modernism of World War II and its fallout.
On the day the allied forces announced the end of the Great War, Curie was wondering how she would afford uranium for her research.
When Paris Sizzled
eventually moves to the cafes and opera houses of Paris, but it never departs from the haunting idea that, despite cultural and artistic breakthroughs, humanity was also at the cusp of another type of cataclysm and the trajectory was irreversible.
McAuliffe's detail is staggering; she seems to mention every possible person important to the decade. But what's most impressive is the way she shows both how and why the 1920s in Paris served as a magnificent interlude between two of the century's most iconic disasters. --
Josh Potter