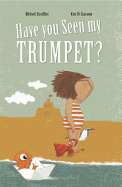 In
Have You Seen My Trumpet?
Michaël Escoffier and Kris Di Giacomo-- the author-illustrator team behind
Where's the Baboon?
and
Take Away the A
--invite readers to join a little girl and a charmingly odd menagerie for a silly day of beach play and wordplay.
Each action-packed seaside scene tells multiple visual mini-stories and poses a question that embeds the clue to its answer. In the opening spread, a pig is holding a pail, a sea star worries, a mouse flies a kite and a big bee takes a ride on a whizzing red disk. The question is: "Who is playing fris
bee
?" and the "bee" is highlighted in red. The next spread asks, "Who is blowing a dande
lion
?" and it is, in fact, a lion. A windsock shows the wind's direction, a ship sits on the horizon and the previously seen pig sits in front of a sandcastle with his pail. A few of the animal characters appear again and again, such as the mostly bowl-bound, "sel
fish
" fish with the "I (Heart) Me" T-shirt. As the day unfurls, giant tentacled arms rise unexpectedly from the sea, all manner of boats come and go, and, the girl looks for her missing Trum
pet
... who is happily found at the end.
The disarmingly funny illustrations--textured, gloriously composed, and with an edible color palette--offer new surprises and punch lines with every reading. And, for the record, it is officially impossible to resist a gleeful mole in striped red pants clutching a big avocado. ("Who loves guaca
mole
?") --
Karin Snelson
, children's & YA editor,
Shelf Awareness