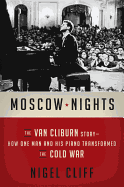 In 1958, at the height of the Cold War, the Soviet Union staged its first Tchaikovsky Competition: an international music contest designed to demonstrate the country's cultural preeminence to the West. But it was rigged. The Soviets had identified the Russian winners of the violin and piano challenges before the foreign contestants arrived. To everyone's amazement, a 23-year-old pianist from Texas named Van Cliburn won over Russian audiences and Soviet judges with a lush playing style and a love of classical Russian music that rivaled their own. Popular pressure from Russian audiences in favor of Van Cliburn forced the Soviet judges--with Nikita Khrushchev's blessing--to award first prize to the Texas prodigy.
In
Moscow Nights: The Van Cliburn Story--How One Man and His Piano Transformed the Cold War
, historian Nigel Cliff (
The Last Crusade
) brings to life Van Cliburn's unexpected triumph and its continuing implications for Soviet-American relations through the end of the Cold War. Cliff sets the story of the competition firmly in the historical context of Sputnik, political paranoia on both sides of the Iron Curtain, and both Soviet and American use of culture as a diplomatic weapon. At the same time, he never loses sight of the musician and the music: Cliff's Van Cliburn is eccentric, driven, politically innocent, big-hearted and wholly charming.
Moscow Nights
is an engaging account of an extraordinary historical moment, best read with Van Cliburn's recording of Tchaikovsky's Piano Concerto No. 1 playing in the background. --
Pamela Toler
, blogging at
History in the Margins