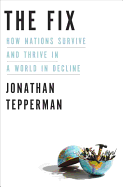 Journalist Jonathan Tepperman travels around the globe examining the successful ways people are solving some of the world's seemingly impossible problems. Through his extensive research and interviews, Tepperman tells the extraordinary stories of leaders who have overcome obstacles--sometimes elaborately, other times simply--to improve conditions in their countries, states or cities. The leaders are not miracle workers and the countries are not utopias, but in the specific areas that Tepperman highlights, they offer solutions that can reasonably be applied elsewhere. They are models of change.
Divided into 10 sections, where Tepperman addresses the "Terrible Ten" problems in the world,
The Fix
challenges misperceptions, such as Brazil's solution to income inequality. Giving cash to the poor resulted in monumentally positive changes and virtually no corruption, instead of the misuse and abuse the opposition predicted. Tepperman uncovers initiatives like Mexico's answer to political gridlock, which have often been overshadowed by other unrelated crises.
The Fix
also emphasizes the universal qualities of these answers in order to illustrate how nations as diverse as Indonesia, Botswana and Canada can educate others, despite differences in geography, population or wealth.
The Fix
is a source of inspiration and a spring of hope. Leaders of all walks of life will benefit from the ideas offered in this comprehensible collection of ingenuity, as will any voter. Armed with this knowledge and the skills to apply the basic underlying concepts, members of a community--be it a nation or a business--can make well-informed decisions and begin viewing the once insurmountable challenges as attainable goals. --
Jen Forbus
of
Jen's Book Thoughts