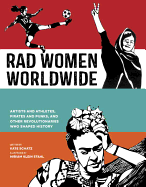 Following their 2015
Rad American Women A-Z
, author Kate Schatz and illustrator Miriam Klein Stahl go global in
Rad Women Worldwide
, celebrating the achievements of women and girls throughout history. Their second well-researched collection of gorgeously detailed paper-cut illustrations is accessible to young readers but fascinating for grown-ups, too.
"May we all have the courage to be rad!" is the creators' challenge in the introduction to the brief bios of 40 women, representing every continent, from ancient Mesopotamia 4,300 years ago to Wimbledon and soccer's World Cup in 2007. Groundbreaking women whose names are likely lost to traditional history books are hailed here: the Mothers of the Plaza who challenged Argentina's dictatorship during the "Dirty War" of the 1970s; Australian Faith Bandler, who led a movement to end discrimination against her nation's indigenous people; Kalpana Chawla, India's first woman astronaut, who perished in the 2003
Columbia
shuttle crash.
Rad women in this collection are humble, brilliant and theatrical. They pursue human rights as well as women's rights. Black performer Josephine Baker, shunned in the 1920s United States but embraced in France, spied on Nazis as a member of the French Resistance. Some Rad Women are unknown: the Guerilla Girls anonymously expose discrimination in the art world through posters, billboards and actions.
Demonstrating the dynamic movements of women who fight for a cause, Schatz and Klein end with a prose poem call to action on behalf of the "one in every 122 humans on earth who is a refugee, displaced person, or asylum seeker" and noting "Who helps? We do." --
Cheryl Krocker McKeon
, manager, Book Passage, San Francisco