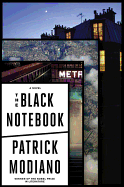 There was a literary fracas in the United States in 2014 when Patrick Modiano won the Nobel Prize. Many critics fumed, as they do annually, that Philip Roth had been usurped by an unknown and unworthy foreign author (never mind that Modiano is French, the academy Swedish). Subsequently, more of Modiano's books have been translated into English, enriching readers of that language, for whom The Black Notebook should cement Modiano's Nobel-worthiness.

Jean, upon reviewing the fastidious details he captured in his black notebook from the 1960s, reminisces about his lost love, Dannie, and a circle of Moroccans he came to know through her. Dannie is mysterious and abrupt, charming and sweet, her past obscure, and, for Jean, what is left of her are fragmentary memories, layered upon each other like the successive generations of streets and buildings that make up modern Paris. Theirs is a narrative equally constructed in the present as it is true to the past, with a sense of memory's fragility.

Of Dannie's opacity and possible criminality, Jean claims, "None of this was important. The only thing that mattered was that we were strolling along the quays without asking anyone's permission and without leaving anything behind. And we could just as easily cross over the Seine and lose ourselves in other neighborhoods, and even leave Paris for other cities and another life." But it must matter, for having lost her, Jean can only find her, at least metaphorically, by understanding who they both were. --Evan M. Anderson, collection development librarian, Kirkendall Public Library, Ankeny, Iowa.