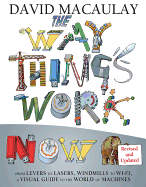 David Macaulay is well loved for his picture books such as Rome Antics and the Caldecott-winning Black and White, and for the gorgeous, sweeping lines in his architecture series. Undoubtedly, however, The Way Things Work stands as one of his finest achievements, educating all ages on the ins and outs of machines, from simple levers to complex electronics, in its original 1988 version and in the revised The New Way Things Work that followed a decade later. Macaulay embraces further changes brought by rapidly advancing digital technology in The Way Things Work Now.

Whether readers long to revisit the wheel or peek inside a video-game controller, hybrid car, smartphone or LCD screen, Macaulay awaits with beautiful, easily understandable drawings, meticulous cross-sections, boiled-down explanations and, of course, a herd of whimsical woolly mammoths. The author-illustrator's ability to delight both the eye and the funny bone remains the great genius of the book. Seasoned with a wry, absurdist sensibility, the pages provide seemingly infinite opportunities for I Spy, new discoveries and sight gags. The categorization structure of the previous edition is preserved, assigning objects to sections focused on basic mechanics, harnessing the elements, wavelength technology, and electrical and automated devices. The new sections triumphantly revitalize "The Digital Domain." The afterword still gives historical context for invention and discovery timeframes, and the requisite index and glossary remain handy features.

Encyclopedic, logical and masterfully illustrated, Macaulay's work reminds those raised in the Internet age of the power and sheer pleasure of a truly brilliant reference book. Technologies may go in and out of fashion, but The Way Things Work and its progeny? Never. --Jaclyn Fulwood, lead librarian at Del City Public Library, Okla.