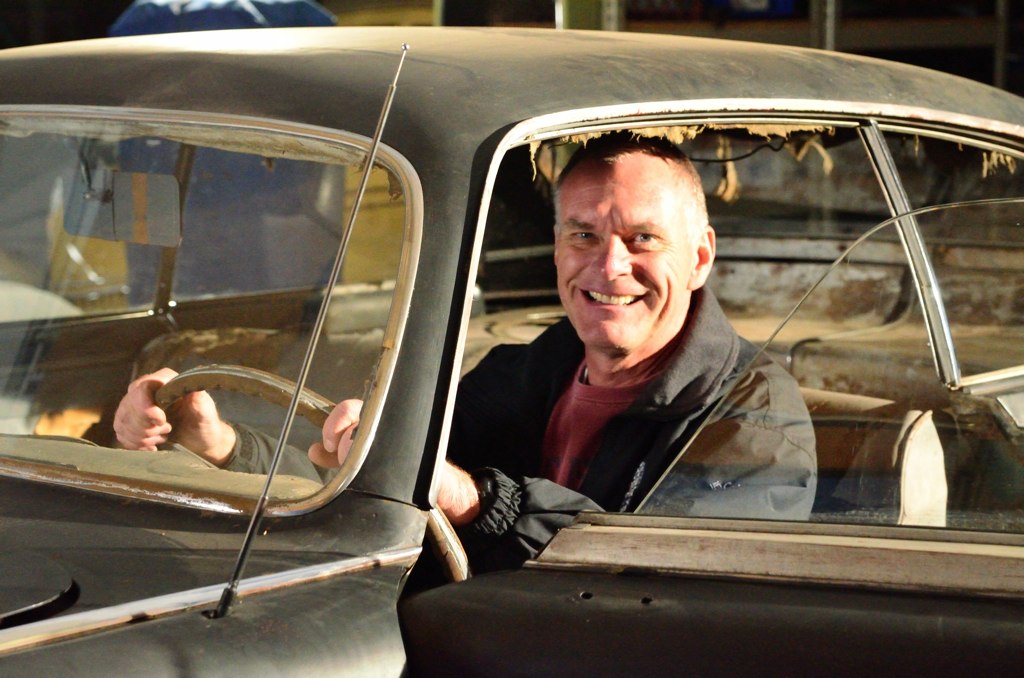 Tom Cotter
Author Tom Cotter and author/photographer Bill Warner, along with friend Wellington Morton III, traveled to Cuba several times to revel in the faded beauty of Cuba's cars. The result is Cuba's Car Culture: Celebrating the Island's Automotive Love Affair (Motorbooks, $35).
Cotter's business card reads "Certified Car Geek." He has authored 10 automotive books, including most of the popular In the Barn series for Motorbooks, contributed articles to the New York Times and to Road & Track magazine, and recently appeared in a 10-episode web series called The Barn Find Hunter. His heart pumps motor oil.
photo: Bill Warner
In 2009, 50 years after Fidel Castro's revolutionary army's tanks rolled into Havana and the United States slapped a total travel and economic embargo on Cuba, three graybeards from the southeastern United States finagled special visas to visit the island to study its famous "classic" cars. They were not ordinary tourists or journalists.
Tom Cotter--car salesman, garage mechanic, head of public relations for the Charlotte Motor Speedway, founder of a very successful racing PR firm, avid car collector and author of several books about scouting for old cars (Barn Find Road Trip, 50 Shades of Rust)--wanted to see the famous Cuban car world in person. His friend Bill Warner came along for fun and photos. Fellow car collector, co-author and contributing photographer for Road & Track, Warner is also the founder of the Concours d'Elegance annual charity car show on Amelia Island, Fla.--one of the top five in the world. Rounding out the team was Wellington Morton III, another car collector nut who drove his restored 1921 McFarlan Phaeton at the 100th anniversary of the Indianapolis Motor Speedway in 2011. Cotter, Warner and Morton are serious car freaks, and Cuba's Car Culture is the extraordinary photo-story of their colorful trip back in automotive time.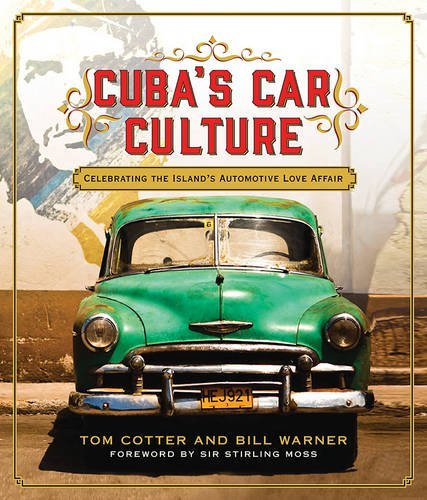 Cotter wastes no time capturing the scene. Stepping off their charter flight, they walk smack into "the set of the early Leave It to Beaver television series... U.S. banks? Nope. U.S. credit cards? Nope. U.S.-friendly ATMs? Personal checks? Cell phones? Nope, nope, nope." But the cars--instantly they are surrounded by the colorful taxis and limos of the golden age of American cars. Like some kind of gearhead conquistadores, they think they have found the mythical El Dorado of Detroit Iron. With translator in tow, they begin approaching owners and drivers to learn about the history of the cars. Experienced junkyard scouts and automotive restorers, they soon find that these "classic" Cuban cars are held together with duct tape, coat hangers and tinfoil chrome. Heads under hoods and scooting beneath bodies on creepers, they discover the heart of Cuban car culture: you do whatever it takes to keep your whip rolling. What in the States are called "30-footers" (cars that look good from 30 feet but are seriously flawed up close) are 100-yarders in Cuba. A '59 Oldsmobile V-8 with Hydramatic transmission and power steering, like the one Castro drove when he climbed down from his tank, might now be riding on tractor axles made in Soviet Belarus, with a 4-banger engine from a Russian-made Chaika. (Cotter: "I naively thought I could 'sneak' into Castro's garage and document the car collection I thought he might own. But once I saw all those guys standing around with machine guns, and found out about people spending years in prisons for going places they were not authorized, I quickly dropped that idea.") With the embargo slamming the door on not only imported cars, but also car parts, Cotter suggests that "the car owners of Cuba have become, by necessity, possibly the most competent mechanics on the planet."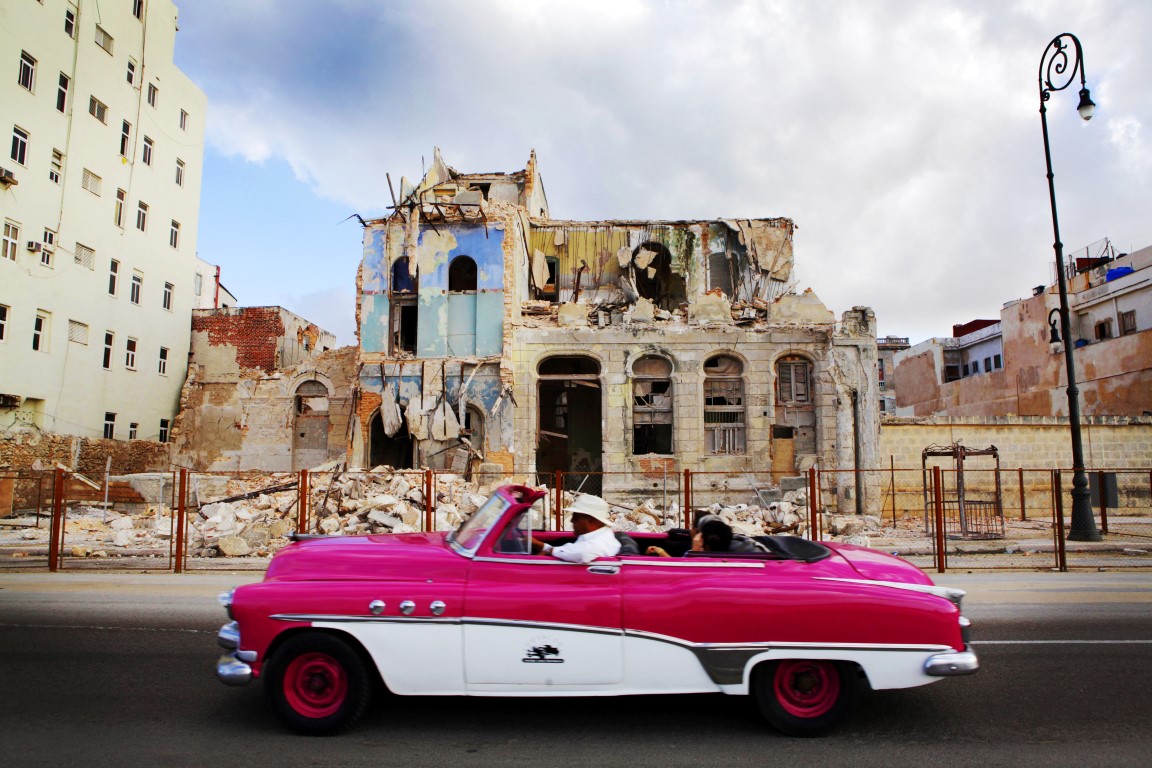 photo: Bill Warner
The men had translators the entire trip; Cotter never sensed they were holding out: "Quite the opposite, in fact. They told us much I could not write about in the book for fear that someone might wind up in prison. They were very open and totally honest, telling us things we never expected to hear." He never felt they were being followed, although he felt more scrutinized during the 2009 trip than the 2015 trip. "Bill Warner, though, on his third or fourth trips to Cuba, had the feeling he was being followed when he went to a clandestine, night-time Cruise-in/Drag Race."
In page after page of interviews peppered with garage lingo about push rods, camshafts and single-barrel downdraft carburetors, Cotter takes us down the main streets and back alleys of Cuban car culture. Without Warner's dramatic colorful photographs, however, this might be just another piece of gearhead ephemera. His pictures are the best kind of engineering and design eye candy--the ride is front and center, but the Cuban architecture and proud car owners tell the real story. Cubans love their cars. In 1952 there were 77,000 cars registered in Cuba, and most are likely still running today--either cobbled together with Frankenstein parts or used for parts themselves. As Cotter explains, "EVERY CAR survives in Cuba. There are no junkyards. Even the biggest PIECE OF S**T is repaired and used." In visiting Hemingway's San Francisco de Paula finca, he even discovers Papa's 1955 Chrysler New Yorker convertible (with its "big a** Hemi" engine) on blocks but in process of being restored by actor David Soul (Hutch of Starsky and Hutch).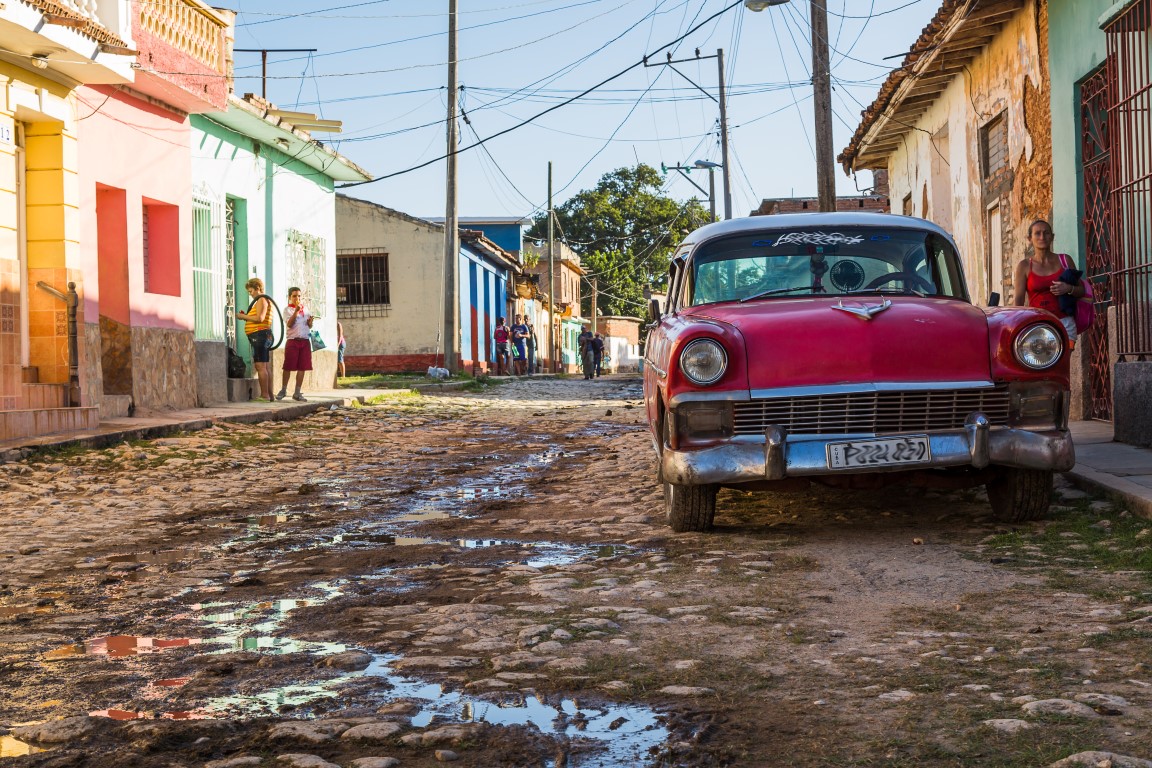 photo: Bill Warner
Cuba's Car Culture also includes archival photos of Cuba's last International Grand Prix in 1958, won by Sterling Moss, who provides the book's foreword, cheering the authors: "The depth of enjoyment they were able to experience in essentially a police state is admirable, if not a little bit dangerous." That authorial "enjoyment" is evident in Cotter's friendly interviews with Cubans, the authentic mojitos shared at Hemingway's old watering hole La Floridita, home-cooked meals he was invited to, Cuban cigars, even a floor show at Havana's grand Hotel Nacional (Cotter: "Scantily clad women danced and smiled, but I got the feeling they weren't really enjoying what they were doing."). The resulting book is a gorgeous homage to an automotive life that will no doubt change as the island begins again to trade with the United States. Cotter said, "I'm so glad that I was able to visit Cuba before it became Americanized. I think the floodgates will soon open, but visitors will see a 'cleaned up' version of what I experienced. Once Home Depot, AutoZone and McDonald's break ground, the country becomes South Miami."
--
Bruce Jacobs
, founding partner
Watermark Books & Cafe,
Wichita, Kan. (who has seen his share of steering knuckles, damper forks, brake calipers, differential carriers and cases, and exhaust manifolds)