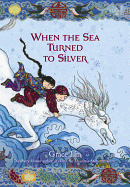 Once again, Newbery Honor author Grace Lin (Where the Mountain Meets the Moon; Starry River of the Sky) takes readers on a spellbinding journey to an ancient China where myths may entertain mortals or leap to life among them.

"When the sea turned to silver and the cold chilled the light of the sun," Pinmei, the shy young granddaughter of Amah the Storyteller, hears trouble coming in the howl of the unusually fierce winter and the concerned murmurings of visitors to their home on the Never-Ending Mountain. The cruel new Tiger Emperor has villagers kidnapped to work as slaves and will only release them in exchange for a "Luminous Stone That Lights the Night." When the Emperor's soldiers kidnap Amah from her stone hut, Pinmei and a mysterious, bold neighbor boy named Yishan undertake a perilous journey to the City of Bright Moonlight on a gamble that it houses a Luminous Stone. In their travels, the two brave friends make allies of humans and otherworldly beings from Amah's stories. Gradually finding her own voice with forthright Yishan as her model, Pinmei discovers in folklore the will and means to stand against a tyrant.

Lin studs her narrative with folk tales, like pearls. Underwater kingdoms, dragons, a boy made of ginseng root, and a magic paper that answers questions by moonlight weave in and out of legend and reality. Her jewel-toned illustrations glow from the pages, evoking fine embroidery in their intricacy. When the Sea Turned to Silver will stand triumphantly alongside its sister novels in delighting anyone who appreciates a winning adventure or monument to folklore. --Jaclyn Fulwood, lead librarian at Del City Public Library, Okla.