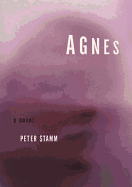 A former accountant, Swiss novelist
Peter Stamm
(
All Days Are Night
;
Unformed Landscape
) writes with the economy of a clean balance sheet--or perhaps with the declarative reticence of Hemingway, whose
A Farewell to Arms
makes a minor appearance in Stamm's short 1998 novel,
Agnes
, available in the United States for the first time. With his spoiler-alert opening sentences, "Agnes is dead. Killed by a story," Stamm establishes his crisp, no-nonsense style. A laconic, self-centered Swiss writer, the narrator lives alone in an unadorned Chicago high-rise and spends his days in the library. In its reading room, he meets Agnes, a Ph.D. candidate in physics and cello player in a chamber group. They share a cigarette, coffee and conversation on the library's steps and, after a few dinners out, become lovers. Impulsively, she asks him to write a story about her: "It would be like having my portrait painted."
He describes his attraction with detachment: "I couldn't claim it was love at first sight, but she interested me and took up my thoughts." Gradually his story of their relationship moves from the past to a prediction of the future. When Agnes becomes pregnant, they argue about abortion and then separate. After her spontaneous miscarriage, they reunite. Agnes wants to know where their relationship will go--how the story will end. He shares his trouble crafting it: "Endings are always difficult.... Life doesn't go in for endings, it goes on." But then, as we know from the first sentence, it doesn't for Agnes. Stamm's spare parable of love, literature, freedom and loss is a bittersweet story of the power of story. --
Bruce Jacobs
, founding partner,
Watermark Books & Cafe
, Wichita, Kan.