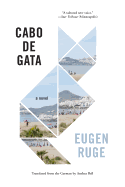 In this slim, unassuming novel, Eugen Ruge (In Times of Fading Light) experiments with form and style, setting a plot of quietly tortured self-exploration in an austere Spanish village. Cabo de Gata is almost minimalist in its events, but expert detail fills out a story larger than its circumstances. In Anthea Bell's translation from the German, the unnamed narrator's voice suits him perfectly.
In Berlin in the years just after the Wall came down, Ruge's narrator feels stuck. He has a good-enough if meaningless job; his ex-girlfriend calls only to ask him to help care for her daughter; he suspects the punks in the ground-floor apartment stole his bicycle. He sees the rest of his life rolling out in front of him in mind-numbing routine, doomed "like the undead" to empty repetition. And so he leaves.
Indecision about where to travel pleases rather than alarms him: he seeks the unknown, "for the sake of experiment," because he is also an aspiring novelist. He chiefly wants someplace quiet and warm, and so flees to Cabo de Gata, a town in Andalusia promised by the travel guides to offer "a breath of Africa."
The narrator tells his story from a distance, from a much later time in which he hints that he has been very successful, and he pointedly chooses not to consult notes or check his facts ("I could Google it," he writes, but he doesn't.) On the surface the odd story of a troubled man haunting a Spanish town,
Cabo de Gata
also poses questions about life's directions and perspectives. --
Julia Jenkins
, librarian and blogger at
pagesofjulia