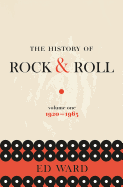 If you're a boomer who grew up with ears glued to the radio, many of the musicians, bands, songs and late-night DJs mentioned in Ed Ward's The History of Rock & Roll will be familiar. But even for the uninitiated, what makes this history so enlightening and entertaining is the background detail that musicologist, journalist and NPR rock historian Ward (Rock of Ages) brings to the party. In a colloquial, conversational voice, he recounts stories of rock's roots and branches--biographical tidbits about its musicians, tales of business shenanigans among recording labels and promoters, and deep dives into the mutations and evolution of the songs. Going back to early field slave chants, gospel and country blues, Ward picks his way through the players who gradually put these influences together into what was first called "race music" and became rhythm and blues, and ultimately rock 'n' roll--the birth of which he credits to Roy Brown's 1947 jump blues song "Good Rocking Tonight," which Elvis covered in 1954 and helped put rock 'n' roll on the commercial map.
Much of rock history has been explored in more detail, but it takes a methodical and opinionated aficionado like Ward to tell the whole story. Like a knowledgeable raconteur arguing top-10 lists with buddies around a table, he really does seem to know everything--jukebox hits, regional labels, girl groups, teen idols, TV dance shows--including rock's underbelly of payola, racism and plenty of disturbing the peace. And this is only the first volume. Stay tuned. --
Bruce Jacobs
, founding partner,
Watermark Books & Cafe
, Wichita, Kan.