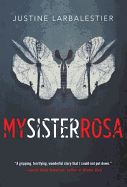 Australian-American author Justine Larbalestier (Razorhurst; Liar) looks at the formative years of a psychopath through the concerned eyes of her older brother.

When seven-year-old Che watched Rosa's birth, the Aussie boy instantly adored his "perfect" baby sister and wanted to protect her from the world. Ten years later, Che must protect the world from Rosa, now a Shirley Temple lookalike with a "fluffy halo" of blonde ringlets and a frighteningly high score on the Hare Psychopathy Checklist. Rosa steals, manipulates, tortures ants and finds loopholes in her promises to be good, but their preoccupied "parentals," David and Sally, are in denial.

Che wants to go home to Sydney for his 17th birthday, but David and Sally move the family from Bangkok to New York City on the bankroll of future employers the McBrunights. Che becomes friends with the McBrunights' deeply sarcastic teen daughter Leilani, but Rosa befriends only one of Leilani's younger twin sisters, driving a wedge between them. Boxing enthusiast Che begins to adjust to New York, helped along by Sojourner, a beautiful "total badarse" he meets at his new gym. However, as Rosa threatens to hurt Sojourner and acts out against the twins, Che and Leilani must find a way to stop her before she destroys both their families.

Larbalestier reminds readers of her masterful gift for slippery, unreliable characters, while Che and company's conversations about religion, diversity and sexuality reflect the complex concerns of today's youth. Mature teens and adult thriller fans will devour this suspenseful, chilling meditation on the roles of nature and nurture in creating dangerous criminals. --Jaclyn Fulwood, lead librarian at Del City Public Library, Okla.