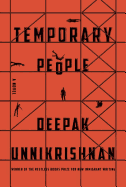 Temporary People is a triumph of language and allegory. This collection of stories about euphemistically named "guest workers" in the United Arab Emirates shines a light on a little-known and largely invisible group. Foreigners working in the Gulf constitute more than 80% of the population, yet they have no rights as citizens. They toil in harsh conditions for decades, at which point they are "retired" and immediately deported to a home country they may barely remember. Deepak Unnikrishnan treats his characters with understanding born of experience; he is the child of Indian workers in the Gulf who will be deported when their work is no longer needed.

Unnikrishnan's characters persevere, often in anonymity (some never have names) and with an understanding of their disposability. In "Birds," Anna spends her nights searching for men who jump off buildings, "then puts them back together with duct tape or some good glue." A group of entrepreneurs repurpose a greenhouse to supply the ever-expanding need for compliant labor in "In Mussafah Grew People." An immigrant teen in "Glossary" can no longer bear to be silent. His tongue escapes his head, "causing all the nouns the now deceased tongue had accumulated in its time in the boy's mouth to be released into the air like shrapnel."

Temporary People is the inaugural winner of the Restless Books Prize for New Immigrant Writing, founded to "discover urgent, culture-straddling writing from first-time, first-generation writers." In Unnikrishnan they have found an exhilarating new voice. --Cindy Pauldine, bookseller, the river's end bookstore, Oswego, N.Y.