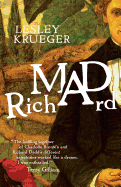 Once a rising painter in Victorian England, Richard Dadd succumbed to madness, murdered his father and spent the rest of his days in asylums painting works that are now considered masterpieces. The main focus of Mad Richard by Canadian author Lesley Krueger (The Corner Garden) is Dadd's life before his break with reality. But Krueger ingeniously attaches Dadd's story to two of the most important writers of his age, Charlotte Brontë and Charles Dickens.

It's unclear how well Dickens and Dadd knew one another. They grew up in the same area of England for a short time (Dickens was older), and had similar social circles before Dadd's psychotic break. As for Brontë, Krueger arranges what is most likely a fictional meeting when Brontë visits Bedlam, where Dadd was incarcerated. Krueger uses this meeting to tie Brontë's and Dadd's lives together, running the story of Dadd's youth parallel to that of Brontë's final years. By portraying artists before and after their most significant achievements, Krueger is able to tease out a moving narrative of fame, beauty and what an artist owes his or her craft.

Dickens, of course, pops in and out of the story, mentioned here and there in both Brontë and Dadd's lives. But Krueger is also smart to give the man his due, showing how fame as England's greatest author came with the same struggles that Brontë and Dadd faced. Ultimately, Mad Richard is about how artists position themselves in relation to their work, and what they must give up to do so. --Noah Cruickshank, adult engagement manager, the Field Museum, Chicago, Ill.