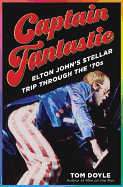 After conducting a series of interviews with Elton John for British music magazine Mojo, Tom Doyle (Man on the Run) realized that he wouldn't have enough space to include some of the best material. Thus, the idea for Captain Fantastic: Elton John's Stellar Trip Through the '70s was born. Based on primary sources, including additional interviews and John's personal diary, this enthralling biography recounts the best and worst of the glam singer's biggest decade.

It opens on Reginald Dwight, the "moon-faced twenty-one-year-old" who would become Elton John, poring over his extensive record collection. Music was a way for the shy but ambitious young man to express his thoughts and feelings to the world. That passion for music led John to team up with Bernie Taupin, a budding lyricist who also felt like an outsider to the hip world of rock 'n' roll. He was "the brother I always wanted," John tells Doyle.

Doyle's biography follows the pair from their first songwriting successes to John's painful engagement to Linda Woodrow and through the singer's late-'70s struggle with drug addiction. Doyle includes anecdotes from friends and family, and fascinating excerpts from John's diary. "Went to the fair with Mick and Pat: I won a coconut and two Goldfish!!" wrote John in 1969. Insights like these help to humanize a celebrity who often seems larger than life.

Well-researched and compassionate, Captain Fantastic is an engaging and moving account of a life lived hard. --Amy Brady, freelance writer and editor.