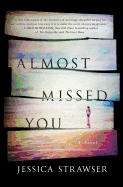 Violet is on a blissful vacation with her happy family--or so she thinks. When she leaves the beach to rouse her son from his afternoon nap, she finds that her little one has vanished, along with her seemingly perfect husband, Finn. Her belongings are just as she left them, but her husband's luggage, their toddler's toys and the rental car are gone, almost as if they'd never been there at all.

So begins Almost Missed You, a novel about tragic departures, missed connections and the secrets we keep from others and ourselves. This debut from Jessica Strawser (editorial director of Writer's Digest magazine) is fast-paced and suspenseful, divided into chapters from the perspectives of Violet, Finn and their mutual friend Caitlin. The narrative, jumping through time from the day that Violet met Finn to their present-day catastrophe, serves the story well, unspooling scenes that are as moving as they are surprising. As Finn draws Caitlin into his deception, complicated questions of guilt, loyalty and love entangle the characters further, and long-kept secrets begin to surface.

Strawser cleverly explores the rich landscapes of motherhood and marriage in a novel that will keep readers engaged as they put the pieces of the story together alongside the characters. Improbable coincidences abound, and though they might be unlikely, their consequences are often gratifying and surprising. Book clubs are sure to enjoy Almost Missed You, as will readers who like a little tension with their domestic drama. --Richael Best, bookseller, Elliott Bay Book Company, Seattle, Wash.