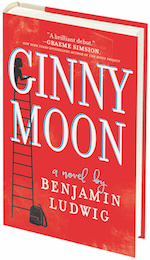 Benjamin Ludwig pulls from his personal experience with both autism and the foster care system in his charming debut novel, Ginny Moon. The title character is a 13-year-old autistic girl recently adopted by her "forever" parents, Brian and Maura Moon. The Moons love Ginny and provide her with a safe, stable home, an excellent education with the accommodations her disability requires, and the psychological support to weather her transition to a new family.
Before that, when authorities discovered Ginny, she was severely underweight and had been abused by her drug-addled birth mother, Gloria. After struggling through a series of unsuccessful foster homes, Ginny finds herself living in the Blue House with the Moons. The couple is now expecting a biological daughter, so they are trying to prepare Ginny for the arrival of Baby Wendy. However, Ginny's behavior is causing concerns. They borrowed a simulation doll from school, and the data in the device's computer shows Ginny hitting the doll more than 80 times. Even worse, Ginny attempts to contact her birth mother, putting her new address on the Internet so Gloria will know where to find her.
With Brian's high blood pressure and Maura's pregnancy, the Moons begin to question whether they've made the right decision in bringing this child with so many exceptional needs into their home. They love Ginny, but is she simply more than they can handle with a new baby on the way?
Ginny Moon is narrated by Ginny, and readers are privy to her thoughts and feelings, those she's unable to communicate to her parents, teachers and friends. These intimate glimpses into the troubled young girl are endearing, sometimes funny and terribly heartbreaking. The voice Ludwig gives Ginny is as distinctive as she is, shunning autistic stereotypes for an authentic character. She loves Michael Jackson and watching movies on her DVD player. She's capable of complex thought but can answer only a single question at a time. And Ginny often thinks in terms of math and numbers, but unlike the misperception that all people with autism are math savants, Ginny's understanding is skewed and distorted, like when she says, "It is a question she shouldn't have asked. Because I don't know how to answer it. To answer it I would have to be nine years old again on the other side of Forever. I would have to subtract myself from this side in order to get back."
Her application of math equations to abstract concepts shows a creative if somewhat confused train of thought. There's both beauty and torment along those tracks leading Ginny to well-meaning but dangerous choices--for her and her new family.
Ludwig also provides readers with vivid views of the chaos and fear in Ginny's mind. When she goes to the Halloween dance at her school, "There are witches and princesses. Someone is even dressed like a cow. And all of them are making noise. So much noise I can't stand it. The music is way too loud. A lot of the kids are yelling and trying to scare each other. I see vampires and gypsies. I see a giant bug and a cat. I even see a kid dressed up as a baby. It is like all the things that are in my brain came out."
The complexity of Ginny's character allows readers to empathize with her, while understanding the agonizing conflicts the Moons experience. This complexity also serves to enhance the novel's suspense. Ginny's wild and unpredictable escapades will keep readers anxiously engrossed and emotionally invested. It's virtually impossible not to cheer for this young girl with the humongous heart.
Ludwig's minor characters add strength to the story as well: Ginny's devoted school friend Larry, who wants nothing more than to win Ginny's heart, and her psychologist, Patrice, who seems to understand her better than anyone. They add a special dimension to both the novel and to Ginny, since they are viewed through her eyes and we see her through her dealings with them. Her communication barriers often result in feelings of helplessness and frustration for both Ginny and those she interacts with, but through all of them, readers will find a fleshed-out portrait of an exceptional person.
Ginny Moon is an irresistible story, compassionately rendered and nakedly honest. The realistic dialogue is packed with humor and candor. The short chapters combined with action and strong plot twists make for a swift pace. And Ginny Moon is simply a remarkable young woman, sure to steal readers' hearts. But she'll return them bigger and better than ever. --Jen Forbus