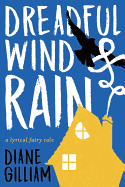 In the tradition of Milton and Donne, Diane Gilliam's Dreadful Wind & Rain is an inspired collection of loosely connected poems derived from the Book of Genesis story of Leah and Rachel, and from a 300-year-old folk song of sororicide. Pushcart Prize-winner Gilliam's work is plainspoken and haunting, with an everywoman's voice of wanting and wondering. The narrator of the prose poem "Lots of Ships," for instance, learns with her "pens and pencils rowing for some kind of shore."

Gilliam pins her perspective in the first poem "Girls," describing a young woman's thoughts while peering out a window: "Whatever it is she is wanting, it is not/ too much to ask."

In "Tender" the wanting is to be out of a difficult marriage:

"Loving him is too much
cereal and milk
when what she wants

are platters of fried eggs and ham,
biscuits and gravy, fried apples
in big steaming bowls."

In the overtly biblical "Psalm of Leah," the protagonist laments her hard farming life: "the twisted grimace of husbandry,/ the face beaten like a plowshare/ into the shape of what happens to it."

Like the ragged abraded squares of an old quilt in "Oh, Honey" ("the wear and tear of what happens in bed"), the poems in Dreadful Wind & Rain tell an unforgettable story deep in tradition but singularly modern. This one belongs on the not-to-be-missed list. --Bruce Jacobs, founding partner, Watermark Books & Cafe, Wichita, Kan.