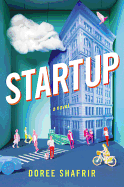 What happens if you take a piece of Silicon Valley and drop it near Manhattan's Madison Square Park? In BuzzFeed culture writer Doree Shafrir's first novel, Startup, you get the same laid-back techie incubator open offices with nerf guns, iced coffee kegerators and lunchtime yoga classes--but you also get huddled sidewalk-smoking employees and 4 a.m. Uber rides to shotgun flats in Greenpoint. Hers is a funny, grittier New York version of kids in their 30s wearing fat do-not-disturb earphones while coding, Slacking, Tweeting and Instagramming to hustle a new app company from nowhere into that rarified billion-dollar unicornland.

Mack McAllister is the wunderkind founder/CEO of TakeOff, whose corporate motto is "Do good work, and the work will help the good." He's approaching a second round of a $500-million venture capital valuation when he inadvertently texts Isabel, the company v-p, a dick pic outside of their usual ephemeral Snapchat sexting. Katya, a young edgy journalist, sees it at a networking bar party when Isabel carelessly leaves her phone while on a bathroom break. With a screengrab of the pic, Katya has a story that could take her from trolling endless tweet and retweet gossip and "into that scrum... with the quote or angle that no one else has found yet."

As Shafrir's story unfolds, it moves easily from the sendup of techie emoji, acronyms, and marketing and business palaver into the more tangled politics of startups. She doesn't miss a lick and she's clearly having a good time. But Startup is more than entertainment--it pushes lots of the right buttons. --Bruce Jacobs, founding partner, Watermark Books & Cafe, Wichita, Kan.