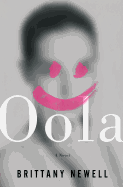 Lush, edgy, lyrical, bad-ass, pensive, taxing--it's hard to paint Oola into a picture that captures its striking prose and fearless curiosity about identity and obsession. In performance artist, drag queen, recent Stanford graduate and Pushcart nominee Brittany Newell's first novel, 25-year-old Leif housesits for his moneyed New England family's network of friends with empty domiciles around the world. Oola is a striking six-foot music student raised by a metal band roadie and a casino hostess. They meet at a hipster London flat party; and with the impulsiveness of unencumbered youth of means, they take off on a global romance in great houses across Europe, the Middle East, Canada and, finally, at a remote cabin in Big Sur.

As the sparkle of discovery shines on the hidden pleasures of sex, drugs, food, conversation and the mysteries of each other, Leif becomes obsessed with Oola's body and habits, turning his observations into what he envisions will be a novel of celebration. He boasts: "I loved to watch Oola in the shower.... I came to memorize her postures, the hygienic loop (rinse, wash, repeat) that, like prayers of digestion, lent me a glimmer of infinity via the banal."

Like Leif's book, Oola is a novel of discovery--ever shifting and digging deeper. It is a diary, a romance, a dark trip over the edge. Capturing today's zeitgeist of an experimental, hungry, indulgent youth, it also harkens back to the masculine, queer, trippy work of William Burroughs and Hubert Selby. But Newell is very much her own woman, and make no mistake. As the title suggests, this is Oola's story--not Leif's. --Bruce Jacobs, founding partner, Watermark Books & Cafe, Wichita, Kan.