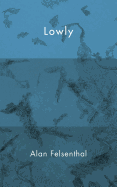 For several years, Alan Felsenthal, together with Ben Estes, has run the superlative small press the Song Cave, publishing some of the strongest new voices in contemporary poetry. Now comes Felsenthal's debut, Lowly, from Ugly Duckling Presse, and it is well worth the wait.

Not uncommon to first collections assembled over a long period, Lowly is a smorgasbord of styles and forms. Gnomic utterances yield to poker-faced double entendres, while hints of humor leaven delicate self-consciousness. Possessing a sly wit ("I regard all men/ I knew as boys, as boys") and a nuanced faith ("In myself I will call my soul a she, and to her be singular"), the poet flirts with riddles but ultimately draws back from the chasm of meaninglessness.

This is refreshingly subtle poetry, quiet even, yet remaining alert to the sheer physicality of language, resulting in a musically sophisticated mouthfeel. Witness the hard consonants in a line like "True power gilds the moth, most/ haled then forgot like a loathed toad."

The poems in Lowly repeatedly invoke legends and myths both familiar and obscure (Atlantis, the Sphinx, astrology). In a time obsessed with facts and their obvious dissemblance, Felsenthal values alterity, writing toward a less binary sense of truth. "I'm not expecting to become the gate-/ keeper of these mysteries. I only want time to read,/ to feel a story well, stare at my beloved/ and make of all my discomfort a household/ shrine." Hear, hear. --John Duvernoy, bookseller, Elliott Bay Book Company, Seattle, Wash.