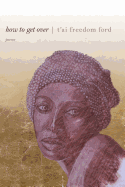 To read t'ai freedom ford's how to get over is to wish to see it performed live. Laden with internal rhymes and cascading images, it could chart on the radio if a drum track were added. This debut, however, is anything but disposable pop. Half of the poems are a fierce reckoning with the systemic injustices of the past, while the other half are a sweaty insistence on embracing the potential of the present.

Braided throughout the book are "past life portraits"--poems that channel the voices of historical objects and characters with method-actor intensity. Considering a machete used in the slave revolt in Saint-Domingue or Richard Pryor's grandmother raising him while running a brothel in Illinois, ford trains a sharp eye on domestic details. She writes that her small hands are good "for rescuing earrings wedged between car seats," and maintains a keen sense of her forebears, nodding to Ntozake Shange in the line "blue like colored girls who done tried dope when hope wasn't enough."

The pulse of these poems quickens most when ford writes of the pleasures of the body. The poem entitled "honeysuckle, pussy, and random acts of nature" concludes, "both taste of wet grass and dew/ watery honey and warm clay/ and on a hot summer day/ i can smell it for miles and miles." Tuned in and turned on, how to get over is a summons not to be missed. --John Duvernoy, bookseller, Elliott Bay Book Company, Seattle, Wash.