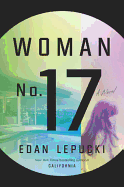 Woman No. 17, Edan Lepucki's follow-up to her breakout post-apocalyptic novel California, is as mysterious and unpredictable as its troubled protagonists, the unusually named Lady and S.

Lady Daniels has decided to separate from her husband. She needs a live-in nanny to take care of her young son, Devin, while she writes a parenting memoir about raising her teenage son, Seth, who is nonverbal. S--shortened from Esther--immediately impresses Lady with her self-confidence, and before long S, who's also a struggling artist, is living in a small building by the pool that she calls "the Cottage."

Woman No. 17 liberally borrows the tropes of noir thrillers while remaining something more difficult to define. Instead of violence and criminal intrigue, Lepucki is concerned with psychological drama and exploring questions of motherhood and art. Her characters are never what they appear to be, and much of the novel's suspense comes from the way it burrows further into each character's psyche and past first impressions, and into their complicated inner lives.

The revelations that come feel less like twists than new insights into each person's behavior. For example, it's revealed early on that the title is a reference to a famous photograph of Lady. The photographer is one of S's idols, but the portrait itself is almost too intimate: "Her stomach sagged over the waistband. The stocking seam was like a scar bisecting the lower half of her torso." Lady hates the photo, but is it because it's exploitative or is it because it says something true about her? As is the case with much of Woman No. 17, it depends on the interpretation. --Hank Stephenson, bookseller, Flyleaf Books, Chapel Hill, N.C.