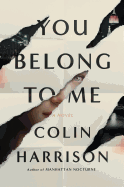 You Belong to Me is steeped in the stewpot of Colin Harrison's New York City--each of its chapters is titled with a location described as a local might, e.g., Chapter 1: "West Forty-Ninth Street between Fifth and Sixth Avenues." "Crime novel" is perhaps too restrictive a label for Harrison's story of money, power, sex and the obsession to possess--both objects (rare maps) and people (spouses, family and friends).

Twice-divorced and in his 50s, with "some money but not big money... rumpled and wrinkled, his best years already behind him," Paul Reeves runs a lucrative boutique immigration law firm and collects old maps of New York City--a long-sought 1766 Stassen-Ratzer is on the market for the first time. His neighbors in his high-rise apartment building are 32-year-old Iranian American financier Ahmed Mehraz and his trophy wife, Jennifer. When former baseball phenom Billy Wilkerson arrives to rekindle the passionate romance he had with "Jenny" in their late teens and to take her back to Texas, her comfortable marriage begins to unravel. Who better to turn to for help than her quiet, reliable neighbor Paul? With Paul competing with another mysterious bidder to lock up the Stassen-Ratzer purchase, and concealing Jennifer and Billy's affair to avoid Ahmed's network of mercenary operatives, You Belong to Me ratchets up the action and intrigue.

Harrison loads his New York City fiction with historical, geographical and ephemeral background, but the city's underbelly of violence and menace is never far away. You Belong to Me is a solid addition to what has become Colin Harrison's own particular brand of New York City noir. --Bruce Jacobs, founding partner, Watermark Books & Cafe, Wichita, Kan.