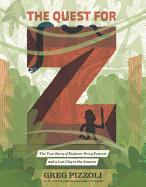 Facing vampire bats, anacondas, assassin bugs and locals with poison-tipped arrows, Percy Fawcett mapped and explored the Amazon rain forest in the early 1900s. After his initial years in South America surveying borders and scouting wildlife for the Royal Geographical Society (RGS), Fawcett became convinced of the existence of a great mythical city he called Z. "He pictured a paradise of grand temples and palaces carved from stone, hidden from modern man deep within the jungle."

Unfortunately, RGS would not fund his search for Z, meaning Fawcett had to get creative: he returned to the rain forest in 1925 with only his son Jack and Jack's childhood friend Raleigh Rimell, plus two local men acting as guides, and two dogs, four horses and eight donkeys. Fawcett sent reports of their progress back to England and after one final dramatic letter home--"I expect to be in touch with the old civilization within a month and to be at the main objective in August"--he and his crew disappeared.

In this fascinating and unusual picture book, Greg Pizzoli (Tricky Vic: The Impossibly True Story of the Man Who Sold the Eiffel Tower; Number One Sam; The Watermelon Seed) tells the true story of Percy Fawcett, a man who "thrived in the jungle." With his matte, mixed-media artwork, Pizzoli makes Fawcett's fantastic story especially accessible to younger readers who will likely be comforted by the funny, simple illustrations of people and wildlife.
Adventurers of the armchair and serpent-slaying variety alike will clamor to travel with Pizzoli on Fawcett's magical and deadly Quest for Z. --Emilie Coulter, freelance writer and editor