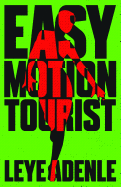 Nigerian author Leye Adenle introduces fans of crime fiction to the staggeringly corrupt city of Lagos in his debut novel, Easy Motion Tourist. In a spare style reminiscent of Raymond Chandler, Guy Collins, an inexperienced British journalist new to Lagos, navigates the city. His misadventures begin abruptly when he stumbles upon a horrible crime: the all-too-real phenomenon of ritual killing, a gruesome practice involving the removal of human body parts in order to perform black magic. When he's arrested and interrogated by local police, he's acquainted with the brand of rough justice that leads many Nigerians to be "as scared of their police as they were of killers."

Collins is also introduced to Amaka, a cross between a vigilante and a guardian angel, who tries her best to look after the working girls of Lagos and get revenge on the men who abuse them. She springs Collins from jail and the two of them embark on a dangerous mission to find out who's responsible for the ritual murders.

For a short novel, Easy Motion Tourist is packed with feuding killers, prostitutes, police officers and the opulently wealthy inhabitants of Victoria Island--a city-within-the-city that serves as a reminder of the metropolis's incredible inequality as well as the main source of the police's funding. Adenle is skilled at evoking a sense of spontaneity and chaos even as he carefully orchestrates the action. The novel is a wild read, surging back and forth from seedy underbellies to the equally threatening halls of wealth and power with uncompromising speed. --Hank Stephenson, bookseller, Flyleaf Books, Chapel Hill, N.C.