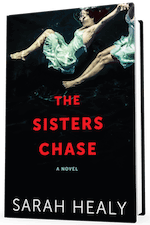 The birth of a baby in 1977 opens The Sisters Chase by Sarah Healy, a fast-paced, suspenseful novel that expertly probes the depth of family bonds, love and loyalty. Readers soon learn that the hopeful promise of new life, however, is riddled with complications for Diane Chase, a struggling single mother, her rebellious and street-smart 14-year-old daughter, Mary--whose "beauty had a ferocity to it, an elegant savagery"--and new baby Hannah.
The Chases never had an easy time of it. The two girls were born to two different fathers, both absent, but the Chases were not the type to dwell on misfortune. Stoic Diane had inherited a motel, the Water's Edge, "a down-market little tourist trap," in Sandy Bank, N.J., after her father died. In order to support herself and the girls, Diane worked a second job as a cocktail waitress at a nearby Atlantic City casino. Diane's strength, grit, work ethic and determination were instilled in Mary early on, and those character traits are the bedrock of how Mary and her sister survive after Diane dies in a car accident in 1981 that leaves the two girls orphaned.
After Diane's death, Mary, age 18, and Hannah, four, learn their only inheritance is the nearly bankrupt Water's Edge. Mary, realizing they are broke, takes the insurance payout from her mother's car and purchases plane tickets to Miami to visit her mother's cousin, Gail Dackard, and her husband, Ron, who owns a lucrative chain of automobile-maintenance shops. It's clear to Mary that Gail and Ron are leery of the girls' visit. Her suspicion is confirmed by snarky second cousin Tim--the Dackards' spoiled son--who tells Mary outright, "My mom doesn't want you here. She thinks you're looking for a handout." Mary uses her feminine charms on Uncle Ron, drawing him into a provocative web that leads Mary to ultimately blackmail him for a trumped-up charge, forcing the couple to fork over $10,000 to the girls to keep them quiet.
With the money, Mary buys a car, and the sisters head north. She tries to make the trip fun for Hannah as they camp, eat take-out and avert potentially dangerous encounters with questionable men. They wind their way toward the Gulf of Mexico to Bardavista, Florida--Hannah's birthplace--then through the swamp regions of the south en route to Northton, Rhode Island, where Mary cleverly orchestrates a seemingly serendipitous meeting with a boy who, six years earlier, "sailed his white boat into Sandy Bank," where he and Mary had a tryst.
Stefan Kelly, son of a successful businessman and his elegant wife, is home from law school during Christmas and is surprised to see Mary. Mary tells the Kellys that she and her sister are in town because Mary's birth-father--a famous, iconic art connoisseur--grew up in Northton. This name-dropping pretext allows Mary inside Stefan's upper-crust world, and she and Stefan fall in love, despite the wariness of his parents. However, just as Mary and Hannah seem to be settling into their new lives, the past returns: second cousin Tim Dackard shows up, forcing Mary and Hannah to go on the lam before he exposes Mary's con artistry to the Kellys--but not before Mary leaves behind a heartfelt letter of explanation for Stefan. Will Stefan believe her side of the story and fight for her?
Stefan's silence is heart-wrenching for Mary--and for Hannah, as she, too, had become attached to Stefan. Over the next several years, Mary, who continues to grow tougher and more jaded, gets work wherever she can as the two sisters cross the country, determined to make their forever home in California. Mary is forced to devise devious--often illegal--ways to make ends meet, all the while trying to ensure every transition is as normal as possible for Hannah. By 1990, the now 14-year-old rebels against Mary and her decisions. This well-wrought tug-of-war, coupled with Mary's increasing lack of life fulfillment, forces the past to ultimately collide with the present, leading to a startling conclusion.
Skillfully threaded throughout a timeline spanning three decades is a parallel plot from the 1970s that unfurls secrets Mary shared with her mother. These scenes more clearly define Mary and her actions and offer a point of reference for the many sacrifices Mary has made out of love--and a loyalty "fierce and rare and absolute"--to protect Hannah.
Moral dilemmas and unexpected surprises force these well-wrought characters to learn how to adapt beyond the ravages of conflict, chronic upheaval, fear and loss. As in Healy's previous novels, House of Wonder and Can I Get an Amen?, complex personal challenges forged inside larger familial ramifications make for a revelatory, thought-provoking read.--Kathleen Gerard