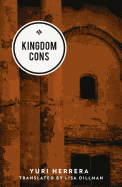 Although it is the last of Mexican author and editor Yuri Herrera's loosely connected border trilogy to be translated into English, Kingdom Cons is the first in the series. Short, allegorical and centered in the world of northern Mexico cartels, it is the story of an uneducated street singer and composer of corridos, popular ballads about peasant oppression and the heroes who free them. Drifting through cantinas "offering rhymes in exchange for pity, for coins," Lobo finds his hardscrabble life miraculously changed when a narco jefe drinking with his honchos kills a drunk refusing to pay Lobo for a song. The jefe then takes the young musician back to his fortified, opulent mountain compound to become his bard--celebrating in song his exploits and benevolent outlaw generosity.

The other two volumes of Herrera's trilogy (Signs Preceding the End of the World, winner of the 2016 Best Translated Book Award, and The Transmigration of Bodies) are centered on the actual border between Mexico and the United States and on those who are mired in the political and legal no-man's land of living on both sides. The allegorical characters here are caught in the metaphorical borders that separate the rich from the poor, the powerful from the weak and the mercenary from the artistic.

In Kingdom Cons, Herrera has created a mythical hierarchy of power where only an artist might elude the jealousy and retribution of those trapped in the struggle to be on top. This is not just a drug cartel hierarchy, nor is it a Mexican mythology. Rather, it illustrates the difficulty of living on borders wherever they may be found. --Bruce Jacobs, founding partner, Watermark Books & Cafe, Wichita, Kan.