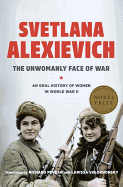 Since Svetlana Alexievich won the 2015 Nobel Prize in Literature, a number of publishers have rereleased her decades-old classics in English translation, including Voices from Chernobyl and Zinky Boys. Originally published in 1985, The Unwomanly Face of War: An Oral History of Women in World War II is a brilliant work of history and reporting that showcases Alexievich's boundless empathy and inimitable style.

Instead of a chronological history focused on military affairs, The Unwomanly Face of War patches together dozens of voices under themes that include love during wartime and the backbreaking, thankless tasks many women performed behind the front lines, such as laundry and baking. "Women's stories are different and about different things. 'Women's' war has its own colors, its own smells, its own lighting, and its own range of feelings."

Almost all her interviewees are women, some of the approximately one million who served in the Red Army during World War II. Some of them tell lengthy, gutting stories; others can hardly speak about the war. Alexievich has an eye for odd details that border on the absurd, such as the woman who recalls bringing a suitcase full of candy to war. "Altogether I carried 481 wounded soldiers from under fire," Maria Petrovna Smirnova recalls. The Unwomanly Face of War is a necessary account of almost unbelievable suffering told on a human scale. On the incomprehensibility of war, Alexievich concludes: "There is only one path--to love this human being. To understand through love." --Hank Stephenson, bookseller, Flyleaf Books, Chapel Hill, N.C.