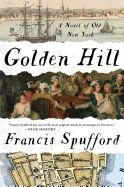 New York, located on the tip of Manhattan Island in 1746, is unsophisticated and barely populous enough to be called a city. Golden Hill: A Novel of Old New York by Francis Spufford (Red Plenty) brings the smells, sights and sounds of pre-revolutionary New York into sharp focus.

When Mr. Smith steps off a boat from London and refuses to divulge any information about himself, even while presenting a banknote for the enormous sum of £1,000, people take notice. Mr. Lovell, head of the accounting firm to whom the note is presented, is leery of this mysterious young man. "I don't know how to take you, and you study to keep me uncertain, which I don't see as a kindness." When Lovell decides to hold the note until the next boat from Britain arrives with a confirmation letter, Smith is forced to remain in New York, subsisting on little money but an abundance of charisma. Diverting his attention from financial matters is Tabitha, Lovell's mercurial daughter, and Oakeshott, secretary to New York's governor, with whom Smith develops a bond that allows him access to the private lives behind society's façade. Yet Smith has the deepest secret of all--and discovery could be catastrophic. "When he planned his entrance, he had not considered how much more easily an illusion is begun than maintained."

Spufford gives readers a rollicking story about a brash young man who becomes enmeshed in provincial turmoil that foreshadows the national conflict to come. --Cindy Pauldine, bookseller, the river's end bookstore, Oswego, N.Y.