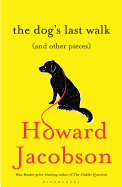 Aside from being a Man Booker Prize-winning novelist, Howard Jacobson (Shylock Is My Name) was also a columnist for the Independent from 1998 until the end of its print run 18 years later. The Dog's Last Walk collects the best of Jacobson's weekly columns from the last years of his time there, finding the author old, cranky and more than happy to tell his readers all about it. Luckily for them, Jacobson remains hilarious and thought provoking throughout.

Each lasting only a few pages, Jacobson's columns range from the inane to the profound, discussing art, politics, death, aging and, perhaps a bit too much, cyclists. Taken as a whole, The Dog's Last Walk can feel repetitive at times, but it's hard to fault Jacobson for broaching similar topics in columns that were published years apart. If read over a long period of time, the chapters can feel more like a continuing conversation than repeated diatribes.

But readers will do well to remember Jacobson's reminder halfway through: "I am not the I of my novels. I am not even the I of these columns." He's more interested in poking and prodding than truly taking a stand for one thing or another. With all of Jacobson's work, irony is key, and the columns collected here are better understood as joyful exercises in sardonicism than anything else. --Noah Cruickshank, adult engagement manager, the Field Museum, Chicago, Ill.