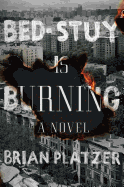 In Brian Platzer's first novel, one of Brooklyn's last gentrifying neighborhoods is having a bad day. Racially charged Bedford-Stuyvesant's history of shoot-first policing has the locals on edge. Their anger builds when a cop opens fire on an unarmed 12-year-old. The fuse is finally lit when police begin rounding up teens joy-jumping the turnstiles at the Utica Avenue A train station and then cuffing those who swarm the area to protest. Shouting gives way to baseball bats, guns, looting--until all hell breaks loose.

This is especially bad news for Aaron, who, with his journalist girlfriend, Amelia, and their newborn son, Simon, are the only whites on a block already pricing out long-time black owners. Aaron has a gambling problem and was kicked out of the rabbinate for stealing from his synagogue to cover his bookie debts. He and Amelia are on center stage of Bed-Stuy Is Burning, but Platzer's novel also includes an ensemble of engaging support characters. Simon's nanny is a devout Jamaican immigrant in the process of converting to Islam. The block's unofficial maintenance super, Jupiter, is a migrant from Georgia with an angry teenage son caught up in the melee.

Platzer paints with a broad brush, but his characters are robust. His story is about more than big social issues. It is about the masks people wear to hide insecurities--masks that are stripped off in the face of violent confrontation. A bad day in Bed-Stuy is a vivid microcosm of the United States, but the hope Platzer suggests with his characters' healthy unmasking offers optimism for the whole country's days ahead. --Bruce Jacobs, founding partner, Watermark Books & Cafe, Wichita, Kan.