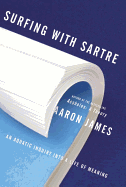 Philosopher and avid surfer Aaron James (Assholes: A Theory) draws deep meaning from the ocean's waves in his thoughtful and life-affirming treatise Surfing with Sartre: An Aquatic Journey into a Life of Meaning.

In the tradition of Robert Pirsig's Zen and the Art of Motorcycle Maintenance, James analyzes his personal pastime from a philosophical standpoint, uniting the habitual and quotidian with the profound and metaphysical. Surfing with Sartre is divided into three sections: epistemology, metaphysics and political philosophy. James explores these topics through his own surfing anecdotes blended with explication of philosophical concepts. He presents the ideas of many philosophers but homes in on the existentialism of Jean-Paul Sartre, questioning how Sartre's conceptions of freedom and moral responsibility pertain to surfing.

To answer these questions, James examines the psychological reality and philosophic assumptions underlying the popular, surfer-like dictum, "Go with the flow." "To surf, in general," he writes, "is to be adaptively attuned to a changing phenomenon beyond oneself, for its own sake." This is the nature of existential freedom, James argues, the ability to flow within one's circumstances and to find transcendence and sublimity in the activity itself. He urges individuals to extend grace to others and connects this surfer mentality to globalization and a new conception of capitalism in which people work less, love more and live in harmony with their environment rather than dominate it.
Funny, enthralling and above all wise, Surfing with Sartre offers fresh insights into the human condition that will interest the academic theorist, the casual surfer and everyone in between. --Scott Neuffer, writer, poet, editor of trampset