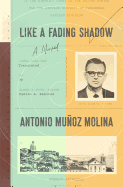 In Like a Fading Shadow, Antonio Muñoz Molina creates a fictionalized version of himself, shading the line between reality and imagination in alternating threads. In 1987, a young Muñoz Molina visits Lisbon to complete a novel about James Earl Ray who, in 1968, escaped there after assassinating Martin Luther King, Jr. Muñoz Molina feels ill equipped for the writing task, and chafes at his mundane life, to which he attributes his writing block. He hopes that this trip will allow him to write more passionately. "I did not go to Lisbon to find the settings for a plot that was already in my head. I needed to find the drama there."

Muñoz Molina imagines Ray's thoughts and actions with precision. In Lisbon, he awaits a visa to Angola where he believes he will be welcomed as a hero for what he has done. Yet his existential dread is all too real. "Sometimes, in moments of extreme isolation, fatigue and insomnia, he feared being dead, a ghost, and not knowing about it." Evading capture further magnifies this fearsome perception of not existing.

Muñoz Molina, visiting Lisbon 30 years later as a decorated writer, has replaced his tortured drive to create with a more mature outlook about art and inspiration. He writes, "Literature is built with things that exist and things that do not," and what is real and what is not becomes irrelevant in this masterly and hypnotizing novel. --Cindy Pauldine, bookseller, the river's end bookstore, Oswego, N.Y.